Panda-based expansion set for World of Warcraft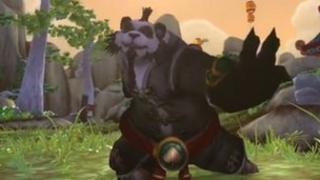 Pandas, skilled in the martial arts, will be at the heart of the fourth expansion for World of Warcraft.
The update will introduce the lost continent of Pandaria to the online game and let players go adventuring as a member of the Pandaren race.
It will also let players make existing characters even more powerful and allow them to stage battles between teams of in-game pets.
No date has been given for when the add-on goes on sale.
Flying horses
The announcement about the Mists of Pandaria expansion was made at the BlizzCon annual conference which was held in Anaheim, California over the weekend.
World of Warcraft has about 10 million players around the world who spend their time in the game killing monsters, completing quests and gathering loot. Exact figures for revenues derived from the game are hard to find, but financial reports suggest the game generates about $360m (£226m) per quarter for Blizzard.
Other changes to WoW announced at the show include the introduction of a challenge mode for parts of the game. This will find out which players can complete a closed-off section, known as a dungeon, the fastest.
The expansion will also see the inclusion of what Blizzard calls "scenarios". These will involve players banding together briefly to achieve a common goal - such as defending a village against invaders.
The most recent expansion for WoW was called Cataclysm and was released in December, 2010. It saw many parts of Azeroth ripped up and reshaped by the emergence of a dragon called Deathwing.
Separate to the expansion, Blizzard unveiled some other changes to WoW. It unveiled a deal which will give a free copy of the forthcoming game Diablo III and a flying horse to use in WoW to those who commit to playing the game for the next year.