Android debuts Ice Cream Sandwich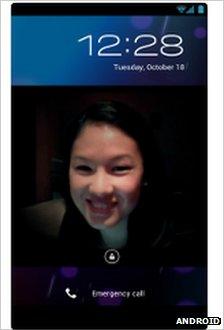 Google has unveiled the latest version of its industry-leading Android smartphone software.
Ice Cream Sandwich adds a range of new features and a redesigned interface.
The system was launched in partnership with Samsung, whose Galaxy Nexus handset will be the first to use it.
Android's main rival, Apple, released an update to its iOS software last week, although many owners were unable to download it immediately due to overwhelming demand.
Ice Cream Sandwich - also known as Android 4.0 - follows the tradition of naming versions after cakes, confectionery or frozen desserts.
Previous releases have been codenamed Cupcake, Donut, Eclair, Froyo and Gingerbread.
Design changes for Android 4.0 include:
Replacing physical buttons on devices with equivalent on-screen icons.
New lock screen features - the ability to access camera and notifications.
Ability to group apps and shortcuts by dragging icons onto each other.
Redesigned multi-tasking screen. Applications are represented by scrollable tiles.
Other software changes include:
Face recognition unlocking. Rather than entering a pattern code as in previous versions, users can opt to look into their camera.
Enhanced email capability - support for nested subfolders
Android Beam - users can swap web content or links to apps by touching their phones together.
Enhanced voice input featuring a continuously open microphone - meaning phones listen out for instructions.
Leigh Geary from the website Coolsmartphone.com said that Ice Cream Sandwich would be the first version to be optimised for different types of mobile devices.
"It's interesting that Google have chosen to unify the OS across both smartphones and tablets.
"Previously the Honeycomb version of Android was purely for tablets and we assumed that two different flavours of the OS would continue," said Mr Geary.
That integration of Android versions should help in its battle with iOS, said T3.com's deputy editor Mark Mayne: "Google can emulate the Apple ecosystem more closely and cut down on fragmentation, a major problem for Android.
"This means Android apps in general will become a smoother and slicker experience."
Android - which is owned by Google - and Apple are continually leap-frogging each other in terms of design and functions, as both compete for customers in the fast-growing global smartphone market.
According to figures published by Canalsys in August, Android handsets accounted for 48% of smartphones shipped to retailers, compared to 19% for Apple devices. However, many more Android models are available, from manufacturers such as HTC, Motorola, Samsung and Sony Ericsson.
The fierce competition has, on occasion, brought the two sides into direct conflict.
Apple and Samsung are currently engaged in a number of legal battles, around the world, some of which involve claims of patent infringement and "copying" of device look and feel.
To date, Apple has obtained injunctions on Samsung Galaxy tablets being sold in Germany and Australia, with a ban on some smartphones due to come into effect in the Netherlands.
Related Internet Links
The BBC is not responsible for the content of external sites.