Analogue TV signals to end in October 2012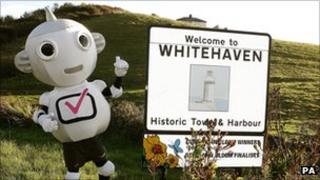 UK analogue TV signals will end on 24 October 2012, Digital UK has said.
The last place to enjoy the 80-year-old transmission technology will be Northern Ireland.
Afterwards, people who do not subscribe to satellite or cable services will have to buy digital televisions or set-top boxes to continue viewing.
It will also mean the end for teletext-based services, such as BBC Ceefax, as the spectrum is freed up for high-speed wireless and smartphone networks.
Digital TV offers a wider range of channels than analogue TV and much of the content available on teletext-based services can be accessed on digital sets.
TV broadcasting began in August 1932 with a series of experimental analogue transmissions to test out the novel technology. The BBC began broadcasting TV to a schedule in 1936.
'Brilliantly smoothly'
The UK's conversion to digital TV began in 2007 with a pilot in the Cumbrian town of Whitehaven.
Digital UK - the non-profit company set up by the government to oversee the transition - began switching off analogue signals region-by-region in 2008.
The process has been completed across most of the UK and is due to finish in the east of England in November when the last of three analogue transmitters to the Anglia region is switched off.
The four remaining regions to switch next year are London, Meridian in the south of England, Tyne Tees in the north east of England, and Northern Ireland.
Last month, communications minister Ed Vaizey said the project was on time and had run "brilliantly smoothly".
'Additional choice'
Independent media analyst Theresa Wise told the BBC on Friday UK switchover had been a success.
"The vast majority of people have already switched over to digital because they like the additional choice and there seems to be quite good... and early communications around what's available for people on lower incomes, or elderly or disabled people," she said.
The government set aside millions of pounds to help vulnerable people make the changes needed for the switchover. Much of that has now been subsumed into the fund to take next-generation broadband to rural areas.
The spectrum freed up by turning off the analogue signals will be re-used for a future mobile technology called Long Term Evolution. Regulator Ofcom is due to run an auction in late 2012 that will see the radio spectrum sold to operators to use for the service.
Ofcom is currently carrying out a consultation exercise to see how many people will suffer interference when LTE is turned on. It estimated that about 3% of UK viewers, about 760,000 people, will see poorer quality TV pictures when LTE is in wide use.
Filters that strip out the interfering signals are expected to solve the problem for most people but others may have to find other ways to watch digital TV.