Ex-Journey man in Kickstarter row over funding patents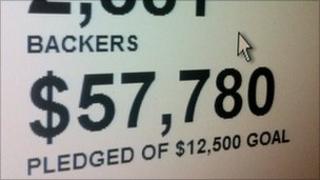 Kickstarter, the website which has raised over $75 million (£50m) for creative projects, is under threat over a patent row.
Former rock star Brian Camelio has claimed that the site infringes a patent relating to crowd-funding models which he was granted in February.
According to court papers, Mr Camelio repeatedly approached the company to discuss licensing terms.
Kickstarter has called for the patent to be invalidated.
Mr Camelio, a former session musician for rock band Journey, was granted a patent for "Methods and apparatuses for financing and marketing a creative work" in February 2011.
He is the chief executive of ArtistShare, a website which, like Kickstarter, lets music fans pledge money to projects in exchange for some involvement in the creative process.
The patent covers a method of funding based around the concept of artists registering to a central database and offering perks to backers of projects.
Kickstarter, founded in 2009, invites film makers, musicians, inventors and other creative people to present ideas on the site.
Visitors are then asked for donations in return for gifts or experiences such as walk-on parts or album notes.
Successful projects include the movie Save Blue Like Jazz - which raised over $200,000 (£130,000) - and Diaspora, an idea for an open-source social network which also raised over $200,000 in donations, including from Facebook founder Mark Zuckerberg.
Court papers filed by Kickstarter on 30 September detail how Mr Camelio wrote to the site a month after the patent was granted seeking "amicable discussions" about licensing agreements surrounding the patent.
Kickstarter allege that Mr Camelio was involved in setting up a separate company, Fan Funded, in order to strengthen his patent claim.
After receiving no reply to his correspondence, Mr Camelio is said to have appeared "unannounced" at the New York headquarters of Kickstarter to request a meeting with its founders - but he was told no representative was available.
Discussions were eventually held, but they have since broken down.
Hand-outs
Kickstarter said it now expects to be sued by Mr Camelio for patent infringement, and has requested that the federal courts deem the patent invalid.
Failing that, it hopes to prove that Kickstarter is not guilty of infringement.
Mr Camelio founded ArtistShare in 2000 before applying for the patent three years later.
He told PaidContent.org that Kickstarter's court action was "shocking", suggesting that the company even offered to buy the patent.
In addition, he told the site that he has fundamental issues with Kickstarter's funding approach.
"I feel that Kickstarter may be hurting artists by focusing on 'donating money' rather than celebrating the artist for what they do.
"Their model does not build fan relationships but just continually asks for hand outs."
Kickstarter was founded by Perry Chen, Yancey Strickler, and Charles Adler and has since grown into the biggest crowd-funded creative site in the world.
The site takes a 5% cut of money raised, but does not keep any ownership of the project.