Football tweets offer insight into harnessing Twitter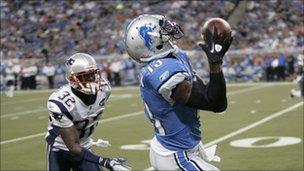 Twitter could become a real-time barometer of what is happening during important events, say US researchers
Engineers from Texas Rice University monitored tweets made during US National Football League games.
They could tell within seconds when touchdowns, interceptions and other match action happened.
Such a system could be used in a wide range of other scenarios, including political debates as well as during localised problems such as power cuts.
Professor Lin Zhong worked in collaboration with engineers from the Betaworks group of the Motorola Mobility Applied Research Centre to devise his SportSense software which monitored and analysed tweets made during football matches in 2010.
"We chose football because touchdowns, interceptions and other events in the game cause a lot of excitement and lead a lot of people to tweet," he said.
"We found that a careful examination of the tweets could tell us what was happening in the game."
The software was able to register big events within 20 seconds of them happening, often before sports sites such as ESPN had acknowledged them.
It also monitored excitement levels of fans. Citing more recent, 2011 analysis, a game between the Detroit Lions and the Dallas Cowboys was the most exciting of all games played during the first week of October. It registered 28 tweets per second on average.
Twitter sees massive traffic spikes when key sporting events are televised. During the 2010 Football World Cup it recorded upwards of 3,000 tweets per second. Tweets per minute can multiply by up to 50 times the normal amount during events such as the Oscars, the firm has said.
Mr Zhong said that the research team wants to use the software to sense other things that are happening in the world.
"Anything with a sufficiently large audience has similar potential. Things that are televised, like reality shows and political debates, are certainly possibilities," he said.
There were also more localised applications.
"When a storm hits and the power goes out in my neighbourhood, I would like to know when it comes back on - even if I happen to be at work. People tweet about those type of events, so the signal is there in the data; it's just a matter of finding it," he said.
Harnessing the power of the network is as much about people as it is about software, said Mr Zhong.
"People don't often think of themselves as being sensors, but each of us constantly senses and reacts to our environment.
"Thanks to social media sites like Twitter, it is now possible to capture those reactions - for millions of people - in real time," he added.
It is not the first time Twitter data has been harnessed for real-world applications.
In April, a study conducted by a PhD student at the Technical University of Munich found that investors following stock market tweets could achieve an average return rate of 15%.