Facebook focuses on media sharing and adds timeline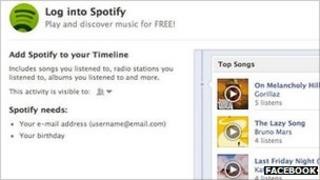 Facebook has outlined plans to encourage users to share more of the media they consume - including music and movies - with friends.
Its founder Mark Zuckerberg also unveiled a dramatic redesign to the website, replacing user profiles with an audio visual timeline of their life.
The updates were revealed at Facebook's annual F8 developer conference.
A wave of new features in recent weeks have been welcomed by some users and caused annoyance to many others.
Facebook's latest changes point to a desire to keep users engaged through new features, in the midst of rapid innovation from social networking rivals.
The site's application platform has been redesigned to allow users to share what they are consuming on streaming music services such as Spotify, and the movie rental site Netflix.
News sites, including the Guardian and Independent newspapers, are also included in the initial roll out.
Depending on privacy settings, users will be able to see what friends are doing - for example, playing a song - then listen-in themselves.
Mr Zuckerberg said he wanted to create, what he called, "real time serendipity".
"Being able to click on someone's music is a great experience, but knowing you helped a friend discover something new and they liked your taste in music, and that you now have that in common is awesome," he added.
Facebook said that users would only be able to do as much on the site as its media partners allowed in each country, so free music sharing through streaming apps would only work where that service was already available outside Facebook.
New look
Alongside the deeper integration of media content, the restyling of Facebook's profile pages is also likely to prove a hot topic among users.
The most radical departure so far from the site's well known profile format will doubtless prove contentious with its sometimes conservative members.
Identities will now be defined through a densely packed vertical timeline of major life events, made up of photos, videos and other items. The level of detail diminishes the further down a reader scrolls.
Profile pages had previously been limited to basic information along with a stream of every single item posted by a user.
The latest offering is significantly different to those of Facebook's biggest social networking rivals, Google+ and Twitter, and more closely resembles the once-popular site Myspace.
"Facebook is positioning itself as not just your social graph online, but your life online," Forrester Research analyst Sean Corcoran told the Associated Press.
"These changes not only help trump rival Google but will open up new opportunities," he said. "But concerns around privacy and immaturity in how to do these things effectively will make it a slow go."
Facebook stressed that all of its new offerings could be controlled by members using its recently simplified privacy controls.
In particular, it stressed that timeline items could be modified within the new "activity log", allowing users to limit who can view certain events from their past.
The updates are expected to start appearing on users' computers in coming weeks.