OnLive cloud gaming comes to UK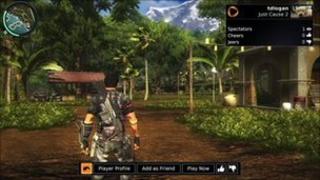 OnLive, the cloud based video game service, has launched in the UK.
The system, which went live in the United States last year, allows users to play games without owning a traditional console.
Instead, the applications are all run on remote servers with the video streamed across the internet.
Run in conjunction with BT, OnLive requires a broadband connection faster than 1Mbps and works on PC, Macs, Tablets and net-connected TVs.
Because the system uses video streaming and players effectively remote control their game, bandwidth is a crucial issue.
Speaking to BBC News, OnLive's chief executive Steve Perlman said that the project had overcome numerous hurdles during its decade-long development.
"The first thing we had to do was come up with a new form of video compression," he said.
"We had to deal with the internet not working, the time delays that occur with different communication methods [e.g. wifi, broadband]."
Mr Perlman said that they had managed to get the limits down to 1Mbps for a tablet device, but a large screen HD TV would need a minimum of 5Mbps.
Because the game is a video stream, rather than a direct link to the TV or monitor from hardware in the home, there are limitations on the resolutions it can display.
However, it allows games not designed for certain platforms, such as Windows PCs or Macs, to be played on those machines.
Gamers without a computer or connected TV can use an OnLive "micro console" to access the system. The box plugs into the back of a conventional television.
Cloud gaming
The games themselves are hosted on cloud servers. In Europe, these are based in London, Luxembourg, and Brussels.
Currently OnLive offers around 150 titles, but said it planned to expand that.
Joe Martin, Games Editor at Bit Gamer, told BBC News that OnLive posed a threat to both retail and hardware manufacturers.
"At present the threat is small, but it will grow. In fact the only drawback I can see is in terms of visual compression, which has been sacrificed to remove lag," said Mr Martin.
"From what I can see, the system works and its not just retailers and console manufacturers who are going to be threatened. It's hardware firms like nVidia and ATI and every gaming platform," he added.