Dyson turns up the heat in the home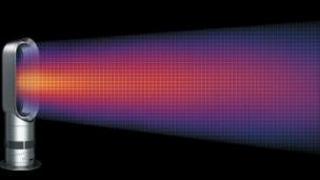 Dyson has unveiled its latest air blowing gadget - a room heater.
The AM04 is a follow-up to the company's high-end bladeless fan, that was launched in 2009.
The £269 price tag of the AM04 suggests that the device is unlikely to find the mass market appeal of its bagless vacuum cleaners.
However, Dyson claims that the device does a better job of warming a room than traditional electrical fan heaters.
"We've tested a lot of products and often the heat will come out and rise very quickly towards the ceiling so you have to sit pretty close to them to feel they are working," said Tom Crawford, head of product development for environmental control at Dyson.
The company has again made use of the air multiplier technology that was first developed for its bladeless fans.
Using the well known physical properties of inducement and entrainment large amounts of air can be drawn into a stream using relatively small amounts of blowing power.
To heat it, the fast moving air is passed over "hot stone" elements, shielded by the device's plastic aerofoil.
Although Dyson believes the technology to be more efficient at warming a room, its actual heating elements have a power draw of up to 2KW - comparable to conventional machines.
The Wiltshire-based company launched its environmental control division in 2009, with the creation of its bladeless desk fan.
Back then, the roll out of a fan during October raised some eyebrows, as the UK was heading into winter.
The company explained that was a consequence of it launching the product all round the globe at the same time.