Fusion Garage Grid10: The anti-Android tablet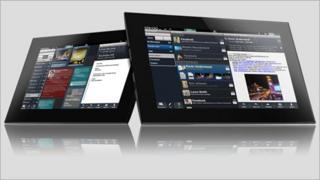 Who's going to challenge Apple's dominance of the tablet market?
Any number of flavours of Android have failed to make much of a dent, the Blackberry PlayBook has hardly rocked the world, and HP's Touchpad retired hurt within weeks of its launch.
But now a tiny Singapore-based business has big ambitions for a tablet which aims to beat the iPad by looking different and costing less.
Fusion Garage's Grid10 goes on sale in the UK next month, but if they are to succeed where others have failed its creators need to make plenty of noise to persuade consumers that this is not another "me-too" tablet.
And when I met the firm's CEO Chandra Rathakrishnan this week for a quick runaround of the device, that was the core of his message.
Despite the fact that the Grid10 is an Android device - although one based on Fusion Garage's own variant - he was pretty contemptuous about the achievements to date of Google's operating system.
The mobile computing industry, he told me, had not innovated since Apple brought out its first phone in 2007. "Everything that has followed the iPhone has been a rip off of the iPhone. Every function is similar and what's worse is the experience is poorer than with Apple."
His answer has been to build a completely new user interface which he says provides a very different experience. And as he took me on a tour around the tablet's grid desktop it certainly looked as though he had found a new way of making a touchscreen environment come alive.
Alternative vision
Everything from adjusting the volume on a music track to navigating through a set of photographs had a fresh feel, whereas on most Android tablets the experience will be very familiar to anyone who has used an iPad.
They have also made sure to build a social element into everything. From taking a note to looking at a photo, you are just a click away from telling your friends about it via a social network.
But what has made many consumers wary about plenty of iPad rivals is a lack of apps and the challenge of getting content, from films to movies to books, onto their tablets. With the Grid10 locked out of the Android Market because it has gone its own way you would think that problem would be all the more stark.
The answer to this, says Chandra Rathakrishnan, is Amazon. His tablet gives you access to Amazons Appstore for Android applications, and the online retailer will also deliver music downloads, plus books from its Kindle store.
What is slightly bizarre is how keen he is to distance himself from Google's operating system: "This is as un-Android as you can get, we've taken all these services and integrated things that Google would not have wanted to see on an Android device."
He claims that his tablet has cherry-picked the best from the giants of the online world - the stability at the heart of Android, Microsoft's Bing for search, Amazon's services - and clothed them all in an innovative wrapping.
For all that, the Grid10 would struggle to attract an audience if it did not compete on price. By offering its basic 16GB wi-fi model at £259 - that is £140 cheaper than Apple and many of its Android rivals - Fusion Garage has given itself a chance.
This is not the firm's first try at this market. Its JooJoo tablet looked pretty clever - and was in development before the iPad. It sank without trace, however, swamped by the tidal wave of excitement which carried Apples machine into millions of homes.
But Chandra Rathakrishnan's Fusion Garage has won tens of millions of dollars in backing from private investors.
Like him, they must believe there is room in this brand new market for a plucky outsider with a different vision of our touchscreen future.