Samsung files patent complaint against Apple in France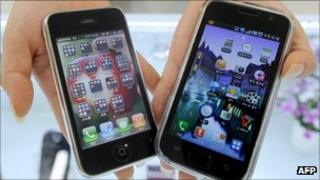 Samsung has filed a patent complaint against Apple in France.
It claims its US rival infringed on three mobile technology patents in the iPhone and iPad.
Unlike the complaint filed by Samsung in Germany that Apple won last week, the recent case does not concern the actual design of the products.
It is another legal battle between the two giants that have been filing complaints against each other in the US, Australia and Asia since April.
The first hearing is due in December.
Earlier this month, a court in Dusseldorf upheld a ban on the sale of Samsung's Galaxy Tab 10.1 tablet computer, ruling that it was strikingly similar to the design of Apple's iPad.
The decision resulted in a nationwide injunction against the tablet.
Samsung then said it planned to appeal against the ruling.
Mobile technology
The French case is based on "three technology patents, and not on the design of the tablets," a Samsung spokeswoman said.
The two companies are also facing each other in courts in other countries.
A court in the Netherlands decided to ban three Samsung smartphone models on 24 August following an Apple lawsuit.
Samsung then launched a counter-claim, and the first hearing is expected on 26 September.
The pair are also pursuing legal claims in Australia, North America and Asia.