GlobalSign resumes issuing security certificates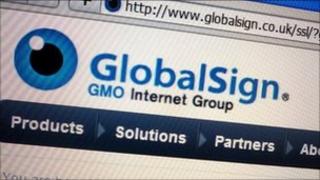 Belgian security firm GlobalSign is to resume issuing website authentication certificates, after a hacker claimed to have breached its systems.
The company is still investigating whether bogus certificates were created in its name.
Had that happened, cyber criminals would have been able to spy on users accessing supposedly secure sites.
An earlier attack on Dutch company DigiNotar resulted in several hundred false certificates being issued.
GlobalSign said it would start bringing its systems back online on Monday, but did not expect to be processing new certificates until Tuesday.
The company posted a statement on its website: "We are adopting a high threat approach to bringing services back online and we are working with a number of organisations to audit the process of bringing the services back online."
As well an an internal audit, GlobalSign has also asked an external security consultant - Fox IT - to review its systems. The same company carried out an investigation into the attack on DigiNotar.
Even as it was preparing to resume issuing authorisation certificates, GlobalSign experienced an attack on a separate system used to operate its website.
The company said that the server was isolated from the rest of its infrastructure and only used to serve www.globalsign.com.
Anonymous claims
GlobalSign temporarily halted the creation of new certificates in response to an anonymous posting uploaded to the pastebin website.
The author, who identified themselves only as "ComodoHacker", claimed to have gained access to four certificate authorities, in addition to DigiNotar.
There was no hard evidence that GlobalSign's systems were compromised.
However it decided to take the precaution because of the severity of the earlier attack on DigiNotar.
It is believed that at least 500 false certificates were created with that company's system. Many ended up being used in Iran, potentially giving users a false sense of security when accessing services such as GMail.
Authentication certificates are used by some websites to give their users secure access.
Typically these take the form of a TLS or SSL connection - which can be identified by the appearance of a padlock logo and "https" prefix.
Together, they are supposed to guarantee that the site is what it appears to be, and that the user's session is not being monitored.
Hundreds of bodies - known as certificate authorities (CAs) - are allowed to provide such authentication.