Google's Eric Schmidt rates Apple's Jobs as 'best' CEO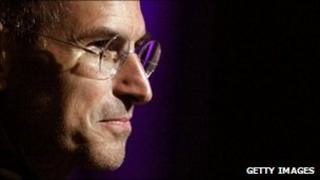 Steve Jobs was "probably the best" company boss in 50 or 100 years, said Google chairman Eric Schmidt.
Mr Schmidt, a former Apple board member, handed down the praise in an interview at a technology conference.
He said Mr Jobs deserved the praise because he built Apple into a powerful corporation not once, but twice.
The assessment puts Mr Jobs ahead of other American industry giants such as oil magnate John D Rockefeller and car maker Henry Ford.
Ongoing health problems forced Steve Jobs to resign as Apple chief executive on 24 August. He continues to serve as the company's chairman.
World leader
The resignation ended a 15-year stint at the head of Apple which saw Mr Jobs turn it into the most valuable company in the US by stock market valuation, ahead of oil giant Exxon.
Mr Jobs' first term as head of Apple lasted from the late 1970s when the company was founded until 1985. During that time he drove Apple to become a significant force in the home computer industry.
He resigned after losing a boardroom battle over the future of the company.
In 1997, Steve Jobs returned as CEO and launched the iMac range of personal computers.
Since then he has introduced the iPod, iPad and iPhone, all of which have redefined their respective markets, as well as making huge amounts of money for Apple.
Mr Schmidt made his comments during an on-stage interview at Salesforce.com's Dreamforce conference.