Google boss 'knew about' unlicensed pharmacy adverts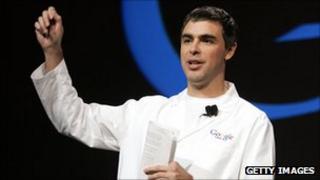 Google's chief executive Larry Page knew that adverts for unlicensed Canadian pharmacies were running on its US site, according to a government prosecutor.
Rhode Island attorney Peter Neronha told the Wall Street Journal that incriminating emails had been uncovered as part of an official investigation.
The search giant agreed last week to pay $500m (£306m) to settle the case.
It declined to comment on the specifics of Mr Neronha's allegations.
Instead, it issued a statement reiterating its regret about what had happened.
"With hindsight, we never should have allowed those ads on Google in the first place," it said.
Revealing documents
Peter Neronha, who led a Justice Department investigation into the advertisement and sale of illegal medicines in the US, was less circumspect in his assessment.
"Larry Page knew what was going on," he told the Wall Street Journal.
The accusation was based on company documents and emails obtained during the course of the investigation, said Mr Neronha.
However, he declined to go into detail about Mr Page's involvement or what was contained in the files, according to the newspaper, "citing grand jury secrecy".
The claims are impossible to verify as documents relating to the case are not currently in the public domain.
It is unlikely that the matter will ever get an airing in court as both sides signed a non-prosecution agreement as part of the settlement.
Rule breaking
Google was advised in 2003 by the National Association of Boards of Pharmacy that it was illegal to import non-controlled prescription drugs into the United States.
Yet a number of Canadian pharmacies were advertising such products through the company's AdWords system and shipping them to US-based customers.
According to prosecutors, Google later blocked overseas pharmacies from targeting US users, but allowed Canadian companies to continue their activities, even providing them with advertising support.
It finally launched a clamp-down in 2009 when it learned of the government's investigation.
In August 2011, the company agreed to forfeit the estimated $500m that it had made from running such adverts.
Google also put in place a number of new compliance procedures to make sure that such action would not be repeated in future.