Patent war hits small app developers
By Natalio Cosoy
BBC Mundo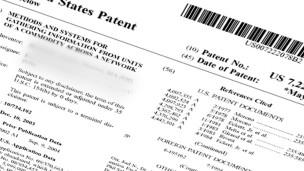 "I got home and I found a mail delivery note telling me that a package had arrived from the United States, and that they would return later".
David (he asked for his surname not to be disclosed) was concerned - he immediately guessed what it was all about.
"Something told me it was Lodsys," he told the BBC.
"I knew that they were doing these things, in April or May I heard about these for the first time."
Seven years ago, David, who is from Spain, decided to become a professional software developer, after some years of doing it for fun.
And just over a year ago he began to develop applications for Android. "I started as a hobby," he said.
But David had never expected to have a problem as big as the one he now faces.
"Not in a million years, I think that has not yet happened [to another Spanish developer]."
When the parcel finally arrived, it contained a letter and other documents.
The letter informed him that the Lodsys, a company based in Texas, holds four patents (5,999,908; 7,133,834; 7,222,078 and 7,620,565) pertaining to systems and methods of interaction of products and services with their users .
"It's a lawsuit threat, a standard letter," he told the BBC. "They do not mention me specifically, but they argue I infringe one of their patents," number 7,222,078.
In another document that arrived in the parcel, they offer to reach an agreement by which he may license one or more patents of the company to avoid prosecution, and give him 21 days from the receipt of the letter to respond (ie, until around September 10).
A lawsuit could reach tens of thousands of dollars or more, especially when taking into account the legal costs. Lodsys has already filed demands in the US, so the threat did not feel like a hollow one.
For each patent that they offer to license, the Texan company "is seeking 0.575% of US revenue (all income is in principle generated in the US because Android and iOS app stores are both registered there) over for the period of the notice letter to the expiration of the patent (they have a duration of 20 years), plus applicable past usage", as set out in Lodsys blog.
In the letter David had received there were no figures mentioned - the patent he is being threatened for expires in 2027.
On top of that, Lodsys can require developers to license other patent they own.
And other companies are also starting to demand payment of such licenses.
Intellectual property analyst Florian Mueller, who has followed in detail Lodsys actions, has suggested on his blog that the company is "trying to abuse the patent system in a way that could ultimately destroy the entire mobile apps economy," while eroding the programmers' incentive to create software.
David's case is not unique.
Lodsys has sent similar letters to dozens of large, medium and small Android and iOS application developers.
And Lodsys is not unique. The company is one of several that does nothing but try to sell licenses under threat of litigation to as many people or businesses as it can.
Lodsys does not manufacture anything, nor does it seem to have a research and development division - the patents it owns have been bought. The BBC could find no evidence to the contrary and the executive director of the company, Mark Small, did not answer a question on this matter when asked via email.
BBC also telephoned Small, but he said it was his company policy not to talk to the media, and that to explain such a policy was in itself too complex.
"I would call Lodsys a 'patent troll'," said Julie Samuels, an attorney with the Electronic Frontier Foundation (EFF) to the BBC.
EFF is a nonprofit organization that advocates for rights such as freedom of expression on the Internet.
'Patent troll' is the name given to a company which has the sole purpose of pursuing claims to get third parties to buy licenses or go to court.
But what exactly has Lodsys accused David of?
Supposedly, something in the free version of his app (it also has a full paid version) uses a process that is owned by Lodsys. It is unclear what this is.
"After giving it a good thought I understand that I am being accused of collecting information (through links on his website and Google's store) on how users might perceive that buying the full version would be better for them," the developer told the BBC.
Lodsys patents are cumbersome documents. They are very difficult to disentangle.
"It's so contrived. It has 74 points," said David.
BBC asked the company to explain briefly what their patent 7,222,078 is for. Lodsys did not reply.
Mueller, meanwhile, cannot find anything non obvious in their patents.
He said in his blog: "I can't see how how reading those patent documents would really put a developer much closer to an implementation than starting from scratch. If a developer decides to provide an upgrade button in his app, there's really nothing that those patents teach that a reasonably skilled programmer couldn't come up with on his own.
David told the BBC that the code of his application "is completely mine, what little I have of other people is because it has a license that allows for such a use."
"The patent Lodsys has is about a concept."
Moreover, Florian Mueller says, "it's actually questionable whether Lodsys' patents would survive a well-funded effort to have them declared invalid."
"There might be prior art; it might be possible to prove that it fails to meet the non-obviousness criterion; one could also argue that it's not patentable subject matter because it's too abstract," he posted.
Neither Google nor Apple seem to be responding to inquiries from developers who are sent letters such as the Lodsys one.
"I tried to call the Google headquarters but I get through to a machine and there is no way of talking to humans," David said.
He has not received a reply to the emails he has sent to Google's legal support. And in Google Spain they "did not even know what I was talking about, it was as if I had asked at the butchers."
The BBC contacted both Apple and Google, both declined to comment.
Google has asked the US Patent and Trademark Office (USPTO) to re-examine the patents 7,222,078 and 7,620,565 in order to try and get them revoked.
Apple has also decided to do something. Its strategy is to argue that the license that the company already has for Lodsys' patents also covers the developers that put iPad and iPhone apps on their store. Google has a similar license.
Both strategies have upsides and downsides," said Samuels, from the EFF.
Google's could be resolved faster, but its scope could be narrower. Apple's is wider ranging, but could take much longer to come to a resolution.
And in neither case is it clear that the authorities will rule against Lodsys (although experts believe this would be the most likely outcome).
"What's important to realize is that each will likely take years to come to a resolution, during which time app developers will still have to deal with Lodsys," said Julie Samuels.
"Unless and until Apple and Google provide blanket coverage," Florian Mueller said in his blog, "I maintain my recommendation that app developers should give serious consideration to a license agreement on reasonable terms."
David feels cornered. "I do not see that as fair, I do not see why without notice and with such a superficial explanation I have to pay these guys for something that I do not think I have done."
But Ms Samuels also believes that "short of not using the technology in question, there is little app developers can do to avoid Lodsys' claims"
"The sad result of patent trolls is that they stifle innovation by asserting patents (often of dubious quality) against companies who cannot afford to fight back or take a license, leaving those companies in many instances to shut down operations or cease providing their innovations," she added.
But Mike Lee, from Appsterdam, an organisation that brings together application developers, told the BBC that "the main thing is not to lose hope."
"The claims by Lodsys and other shell companies are intended to make you feel hopeless, so you give up quickly."
Appsterdam is providing assistance to developers who have been contacted by companies such as Lodsys.
The BBC also asked Apple and Google if the vast patent war in which they, along with other big technology players, are involved in may have been a breeding ground for companies like Lodsys.
David had been toying with the idea of starting to develop applications for iOS as, he says, they sell better than the Android ones.
Now he is not so sure. Meanwhile, the 21 days Lodsys have given him are running out.
Related Internet Links
The BBC is not responsible for the content of external sites.