Mobile firm on rural net crusade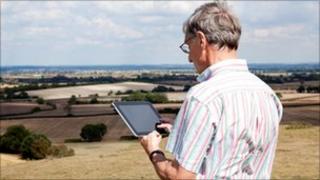 Mobile operator Three is giving away 3G broadband to rural areas struggling to get fixed line services.
Initially it plans to give 11 communities in the UK free dongles and access for a year.
It claims the initiative is part of its commitment to government, which wants to ensure isolated communities have decent broadband services.
But some experts think it has more to do with a desire to lobby Westminster for valuable wireless spectrum.
First to benefit will be residents of Gringley-on-the-Hill in North Nottinghamshire who will receive 30 dongles and free data access for a year.
It will also get public wifi hotspots in the local pub and community centre.
Spectrum gain
Three has formed a working group with the Countryside Alliance and Race Online, the government-backed group that is trying to get more people using the net.
Together they aim to identify ten more rural communities which will get similar packages over the coming year.
The government has pledged that all areas of the UK will have a basic broadband service of 2Mbps (megabits per second) by 2015.
"We hope to demonstrate that mobile needs to be a crucial part of the strategy to tackle notspots," said Hugh Davies, Three's director of corporate affairs.
But Jeremy Green, analyst with research firm Ovum takes a more sceptical view.
"It is not as if Three is concerned about lack of access. It wants to show off how good its network is and lobby for more spectrum," he said.
The mobile firm has made no secret of its desire to get its hands on lower-frequency spectrum, which can cover much larger areas and offers better indoor coverage than the high-frequency spectrum it currently owns.
Three's chief executive Dave Dyson argues that with enough spectrum, such as the 800Mhz band that is being auctioned next year, the firm can go a long way towards solving the UK's notspots.
Networks using lower frequency spectrum tend to fare better in rural areas as their signals propagate better, especially in hilly areas.
"We've built the UK's most extensive 3G network using high-frequency spectrum, if we gain access to low-frequency spectrum like 800Mhz we will be able to significantly improve both indoor and outdoor rural coverage for the UK's smartphone and mobile broadband users.
"Low-frequency spectrum on a network as big as ours is a real notspot-killer," he said.
But experts argue that current mobile technology cannot compete with fast fixed line connections such as fibre optics which offer speeds of up to 100Mbps.
By contrast, the system being offered for free by Three will deliver an average speed of just 2Mbps (megabits per second).
Three admits that, at busy times, the speed could be even slower.
Rural areas haverecently received a government cash boostto help them build super-fast broadband networks.