Tube and train commuters caught on camera
By Matt Cooke
Reporter, BBC London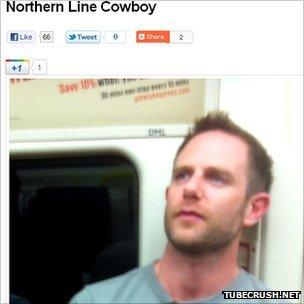 There are over 12 thousand CCTV cameras on the London Underground system, monitoring the movements of millions of passengers every single day.
But some commuters are also doing their own electronic reconnaissance.
There are a growing number of websites and photo galleries dedicated to critiquing the appearance, dress and behaviour of fellow travellers.
Adam Moger was travelling on the Northern line in South London one Sunday morning, when his photograph was secretly taken by someone using a mobile phone.
It wasn't until three days later when his friends contacted him, that Mr Moger realised his image was now part of an online trend.
His picture appeared on the website Tubecrush.net and a connected twitter account, and his looks and fashion sense were being rated online.
"I had no idea whatsoever - I was just sat on the tube minding my own business one Sunday morning after being out the night before," he said.
"A couple of days later my friends were phoning me up and emailing me - and laughing about my picture being online."
Tubecrush.net invites commuters to send in pictures of strangers they find attractive or eye-catching. Subjects must be men travelling on the London underground.
The person having their photograph taken is normally unaware their image is online. "It was slightly strange at first, but then I was quite flattered," said Mr Moger.
"We always see people on the tube who we fancy. Then sometimes you wish you had taken a picture of them, but I don't think I'll be taking pictures of other people though!"
Tubecrush.net was set up by four young professionals living in South London.
Seven months ago Steve Motion, Gemma Dean, Andy Kaufman and Michael Sparrow were watching a dating quiz programme on television when they came up with the idea for the site.
Mr Kaufman, the technical controller said: "We were watching women judging male contestants on the TV, and thought it'd be funny if you could do that in real life."
"We thought taking pictures of people on the tube in London would be best, because the underground has a certain sort of atmosphere."
"People often sit in silence and look around at everyone they're travelling with - so it seemed like a fun idea."
"We decided to start taking pictures ourselves and then asked strangers to send theirs in too."
Mr Kaufman explained that the site now receives pictures from as far afield as Brazil and Japan, as well as other UK cities, including Glasgow and Manchester. But many are rejected.
"If the photographs weren't taken on the Tube then we don't tweet them, as we want to keep the main website focused on the Underground itself," he said.
Hundreds of photographs sent in are sorted into categories, including which part of the tube system the picture was taken on.
"The Northern Line and the District Line seem to be most popular for pictures," said Mr Kaufman.
A number of similar social networking accounts and online galleries have sprung up. Some like @peopleonthetube focus on odd clothing and strange circumstances, while the now defunct @tube_chicks rated pictures of female passengers.
But @tubecrush decided not to ask for pictures of women as "we felt like men taking pictures of women on the tube feels different - it's not the same as gay men or women taking pictures of other men," said Mr Kaufman.
The site first attracted gay men who wanted to send in photographs, but now 60 percent of pictures received are from women.
Tubecrush.net is now so popular it has encouraged a sister twitter account to be set up in New York - @subwaycrush.
It has also begun to sell branded merchandise and is looking at setting up websites in other cities.
Tubecrush.net sets out on its website what to do if someone sees their own picture in a gallery, and wants it removed.
It has a "photo removal request" option and so far, in seven months, only three people have asked for their image to be taken down.
Transport for London (TfL) said that all commuters on the Underground were considered to be in a public area, making photographing them legal.
But there are ethical concerns when the images of strangers are uploaded online.
Most are completely unaware their image has been uploaded and is being scored by strangers.
The team behind @tubecrush said: "We hope people take the site in the spirit it was intended - it is not to cause offence."
Another website which uses pictures taken on public transport, @peopleonthetube told the BBC: "This blog is intended as a celebration of life on the London Underground. It does not aim to mock, make fun of or objectify people. It's just a bit of fun."
Yet many will find the website and others like it an invasion of privacy.
It is yet another consequence of the social networking and internet revolution that we need to come to terms with, and perhaps address. The debate will doubtless continue.
Related Internet Links
The BBC is not responsible for the content of external sites.