Social networks to meet home secretary over riots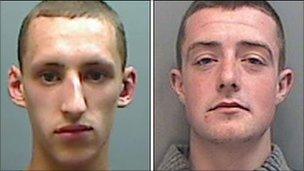 The major social networks have been called to the home office next Thursday to discuss the English riots.
So far only Facebook has confirmed its attendance, although Blackberry has suggested it will also be there.
Facebook, Twitter and Blackberry have all been criticised after it emerged that some rioters may have used them to plan trouble or encourage others.
Twitter was asked by the BBC whether it planned to attend the Home Office meeting, but did not respond.
Facebook said that it welcomed the opportunity to discuss the matter with Theresa May.
"We look forward to meeting with the home secretary to explain the measures we have been taking to ensure that Facebook is a safe and positive platform for people in the UK at this challenging time," it said in a statement.
A number of suspects have appeared in court charged with online incitement, including Jordan BlackShaw from Marston and Perry Sutcliffe-Keenan from Warrington. Both were jailed for four years.
Facebook pointed out that the site's users had effectively policed such misuse, reporting comments to the authorities and Facebook's own moderators.
Blackberry, whose BBM instant messaging system is believed to have been used by many rioters to co-ordinate their movements, did not directly confirm that it would meet the Home Secretary.
In a statement, its owner Research in Motion (RIM) said: "Further to the statements made on the 11th August by the British Prime Minister and home secretary, we welcome the opportunity for consultation together with other companies in the technology and telecommunications industry."
Prime Minister David Cameron sparked controversy when he suggested that the government might look at disconnecting some online and telecommunications services in the event of further civil disorder.
Addressing Parliament he said: "...we are working with the police, the intelligence services and industry to look at whether it would be right to stop people communicating via these websites and services when we know they are plotting violence, disorder and criminality."
Police in London said that they managed to thwart attacks on the Olympic site and on Oxford Street based information gathered from Twitter and BBM.