Apple faces South Korean lawsuit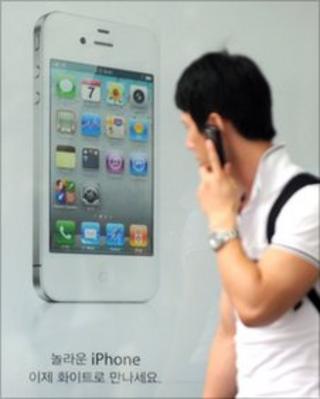 Apple is facing a lawsuit brought by 27,000 South Koreans who are angry over the collection of location data on iPhones and iPads.
Each is seeking 1m won (£533) in compensation for privacy violations.
Apple has faced criticism since in emerged in April that its iPhones and iPads stored locations which could be used to create a map of the user's movements.
The lawsuit could pave the way for others around the world.
Earlier this month the South Korean communications regulator Korea Communications Commission ordered Apple's local operation to pay 3m won (£1,600) fine for violating the country's location information laws.
Quick update
Kim Hyeong-seok, the lawyer representing the group, himself took Apple to court earlier this year and was awarded 1m won.
The issue came to light when security researchers found a hidden file on the devices containing a record of everywhere they had been.
Used with certain software, the file could generate a map of all a person's movements with the phone.
Apple denied that it has used the information to track user location, saying that the handsets were simply recording information about mobile phone towers and wi-fi hotspots with a view to using it at a later date to "improve services".
Following criticisms, it quickly issued an update which cut the amount of time stored data was kept to just a week and no longer transferred it to the owner's computer.
It also allows users to disable the location services setting on their iPhone or iPad.
Permission for the tracking was given by users among the many pages of terms and conditions for the iTunes store.