Virtual touch helps keyhole surgeons to 'feel' tumours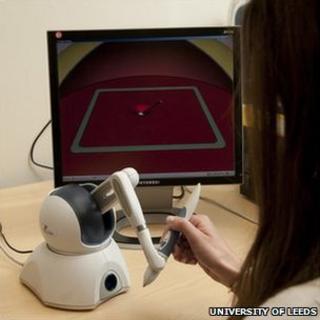 Tactile feedback technology could give keyhole surgeons a virtual sense of "feeling" tumours while operating.
A Leeds University study has combined computer virtualisation with a device that simulates pressure on a surgeon's hand when touching human tissue remotely.
This could enable a medic to handle a tumour robotically, and judge if it is malignant or benign.
Cancer specialists hope the new system will help to improve future treatment.
In current keyhole procedures, a surgeon operates through a tiny incision in the patient's body, guided only by video images.
Using keyhole techniques, as opposed to major invasive surgery, helps improve healing and patient recovery.
However, surgeons can't feel the tissue they are operating on - something which might help them to find and categorise tumours.
"The tactile feedback, the texture, the stiffness of tissue is taken away in laparoscopic surgery," said Dr Rob Hewson, co-superviser of the study.
Hard tissue
The team of undergraduates at Leeds University has devised a solution that combines a computer-generated virtual simulation with a hand-held "haptic" feedback device.
The system works by varying feedback pressure on the user's hand when the density of the tissue being examined changes.
"You move the device around and, just like your computer mouse, it moves around the virtual 3D surface," engineering student Earle Jamieson told BBC News.
"The computer sends a signal to the device to tell it the force you are applying. You can actually feel the response forces you would have felt on your hand."
In tests, team members simulated tumours in a human liver using a soft block of silicon embedded with ball bearings. The user was able to locate these lumps using haptic feedback.
Engineers hope this will one day allow a surgeon to feel for lumps in tissue during surgery.
"Three or four surgeons tried an early version of our system, and thought it was potentially very useful," said Mr Jamieson.
"They are so used to using only visuals, they found it strange to be able to feel for something."
The project has just been declared one of four top student designs in a global competition run by US technology firm National Instruments.
However, Dr Hewson believes the work is still a long way from full medical use.
"There are a lot of technical challenges to overcome before this can be integrated into surgical devices."