Samsung appeals against European tablet sales ban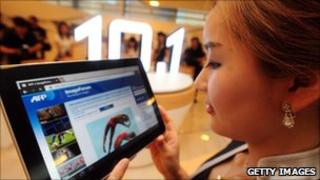 Samsung has been given a court date to challenge the European sales ban on its Galaxy Tab 10.1.
Its case will be heard in Düsseldorf on 25 August, as the company bids to overturn an international injunction brought by Apple.
The iPad maker claimed that Samsung's tablet devices "slavishly" copy its product designs.
Apple is also attempting to obtain an injunction in the Netherlands, the only European country not currently covered.
A decision on the EU embargo is expected within a couple of weeks of the German court hearing.
Currently, Samsung is banned from importing, promoting or selling its flagship tablet device across most of the European Union.
However, a number of retailers continue to offer the Galaxy Tab 10.1 for sale as the injunction does not cover third parties that still have stock.
Dutch action
The nature of the legal action in the Netherlands is understood to be somewhat broader, although it still relates to the Galaxy Tab.
There, Apple claims that Samsung not only copied its designs, but that it infringed a number of specific patents, relating to its touch-screen interface and photo-management software.
Patent-dispute blogger Florian Mueller, speculated that the Dutch case may be of particular significance because of Rotterdam's importance to Samsung as a key seaport for importing its goods into Europe.