England riots: Government mulls social media controls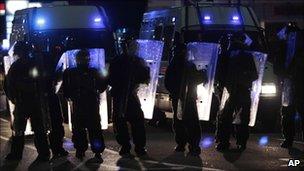 The government is exploring whether to turn off social networks or stop people texting during times of social unrest.
David Cameron said the intelligence services and the police were exploring whether it was "right and possible" to cut off those plotting violence.
Texting and Blackberry Messenger are said to have been used by some during this week's riots.
Rights groups said such a measure would be abused and hit the civil liberties of people who have done nothing wrong.
Mr Cameron said anyone watching the riots would be "struck by how they were organised via social media".
He said the government, using input from the police, intelligence services and industry, was looking at whether there should, or could, be limits on social media if it was being used to spread disorder.
Under social media, Mr Cameron includes Facebook, Twitter and specific technologies such as text messaging. The semi-private BBM messaging system on the Blackberry is said to have been widely used during the riots.
Home Secretary Theresa May is believed to be meeting representatives from Facebook, Twitter and RIM (maker of the Blackberry) to talk about their obligations during times of unrest.
Civil liberty implications
In the statement, Mr Cameron said law enforcement was considering "whether it would be right to stop people communicating via these websites and services when we know they are plotting violence, disorder and criminality".
Questions about the technical feasibility and civil liberty implications of cutting off networks have been raised within the coalition, with many expressing scepticism about the proposal's workability.
Rights campaigners also criticised the idea. Jim Killock, director of the Open Rights Group, said events like the UK riots were often used to attack civil liberties.
He questioned who was going to decide whether texts or tweets were an incitement to disorder.
"How do people 'know' when someone is planning to riot? Who makes that judgement?" he asked.
"The only realistic answer is the courts must judge. If court procedures are not used, then we will quickly see abuses by private companies and police."
Any government policy to shut down networks deprived citizens of a right to secure communication and undermined the privacy required by a society that valued free speech, he said.
"David Cameron must be careful not to attack these fundamental needs because of concerns about the actions of a small minority," he said.
John Bassett, a former senior official at GCHQ and now a senior fellow at the Royal United Services Institute, told Reuters that the government should resist a clampdown.
"The use of social media in the unrest looks like a game-changer," he said. "But any attempt to exert state control over social media looks likely to fail."
Far better, he said, would be to encourage community groups and individuals to report when they see disorder brewing online and ensure police have the tools to extract intelligence from social media.
Related Internet Links
The BBC is not responsible for the content of external sites.