Germans question Facebook tagging privacy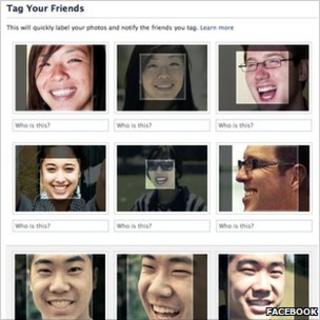 Facebook is being accused of violating German privacy laws with its facial recognition system.
Hamburg's privacy commissioner said that the technology was collecting users' biometric information and ordered the data be deleted.
The commissioner has the power to levy a fine of up to 300,000 euros (£261,000).
Facebook said it would be considering the claim, but rejected the accusation that it had broken the law.
In a statement, a company spokesperson added: "People like the convenience of our photo tag suggest feature which makes it easier and safer for them to manage their online identities."
Private database
Facebook introduced facial recognition to its photos application in June. The system suggests the identity of users' friends while they are tagging images.
The site came under fire at the time based on the erroneous belief that the technology could be used to identify strangers.
In reality, it is restricted to a user's friends.
However, the concerns of Hamburg's information commissioner, Dr Johannes Caspar, centre around the fact that the social network is building a private database of faces.
"The risks of such a collection of biometric data is immense," said Dr Caspar.
The commissioner's office told the BBC that it would be seeking an explanation from Facebook and that if no satisfactory response was received it would pursue an official hearing.
It is not the first time that Dr Caspar's office has tackled Facebook over privacy-related issues.
In July 2010 the commissioner initiated legal proceedings over the use of email addresses belonging to people who hadn't joined Facebook. Their contact details were being uploaded to the site by friends who were members.
As a result, Facebook changed the feature in Germany to notify users that the site might use the contacts to send unsolicited messages to their friends.