British Library offers e-classics app for iPad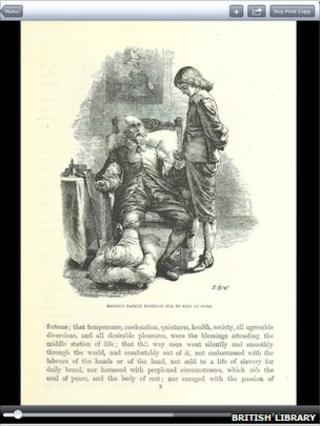 The British Library is making digital copies of more than 40,000 classic books available for the iPad.
Texts appear in fully digitised form, complete with original page markings and drawings, as opposed to the plain formatting associated with other types of e-books.
All of the works date from the 18th and 19th centuries and include novels, poetry and historical accounts.
Users must pay a monthly subscription of £1.99 to access the full collection.
"E-books tend to be rather two-dimensional. Rather flat and dull to look at," said Simon Bell, head of partnerships at the British Library.
"One of beauties of this is that it tries to represent in facsimile the beauty of the book."
The collection was originally digitised in a project funded by Microsoft. Mr Bell said that the company had decided to end its involvement in scanning texts, but continued to finance the scheme until its completion.
There are a further 25,000 completed books which the British Library expects to make available through the app in future.
Touching stories
Apple's iPad was chosen to launch the service because its tactile interface was able to "recreate the experience" of flipping through the real books.
The British Library said that it hoped to add other mobile devices in future and that it was talking to a range of partners, including Amazon.
Because fully digitised texts consume much more storage space than traditional e-books, the works are not downloaded to the iPad.
Instead they are stored online "in the cloud", according to Mr Bell.
The curation of all the books is looked after by Bibliolabs, a software company that specialises in helping organisations monetize rare and interesting texts.
Although its partnership with Microsoft has now concluded, The British Library recently signed a deal with Google to digitise 250,000 public domain works.
It is expected that those will also be available in electronic form at some point in the future.