Patent row halts Samsung Galaxy launch in Australia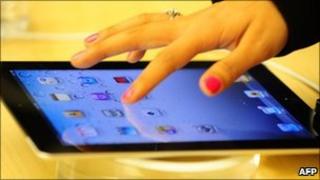 Samsung has delayed the Australian launch of its Galaxy tablet because of its patent dispute with Apple.
Apple and Samsung are suing each other in courts around the world over technologies used in tablets.
As part of the negotiations over the Australian leg of that dispute, Samsung agreed to delay the launch of a US version of the Galaxy Tab.
Apple wants to see imminent Australian versions of the Tab 10.1 to see if they differ from those already made.
In a court hearing on 1 August, Apple claimed that the Galaxy Tab 10.1 infringes on 10 of its patents most of which cover the touchscreen interface.
The Sydney Morning Herald reported that the agreement to suspend the 11 August launch was reached by the two firms' lawyers at the court hearing.
Talks between the two firms were ongoing, said Samsung, and if an agreement was reached, the Galaxy could be launched in Australia. The two companies are next due in court in Sydney on 29 August.
Samsung was continuing work on a version of the Galaxy made specifically for Australia which would be released in the "near future" and was not covered by the legal deal.
"This undertaking does not affect any other Samsung smartphone or tablet available in the Australian market or other countries," said the firm.
Global row
Samsung's decision not to fight the ruling blocking the launch could be significant for the wider row between the two firms, said patent analyst Florian Mueller.
"...the fact that Samsung didn't just stand up to defend the US version of the Galaxy Tab 10.1 serves as an indication that Apple's allegations probably have some merit," he wrote in a blog post on the decision.
Mr Mueller said that Apple and Samsung now faced each other in eleven courts in nine different countries.
The row began in April when Apple sued Samsung in a US court alleging that tablets and phones made by the Korean company were "slavish" copies of the iPad and iPhone.
In retaliation, Samsung launched legal action in Asia and Europe before counter-suing Apple in America.
A US judge is scheduled to decide on Apple's original lawsuit in mid-October.