TEDGlobal 2011: Simple tech aids developing world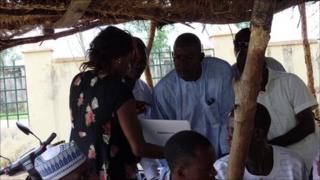 TEDGlobal is a conference which puts the sharing of good ideas at the heart of its ethos.
Many of those ideas are about making improvements to everyday lives.
Each year the TED organisation chooses a group of new fellows - individuals whose ideas it regards as particularly inspiring.
The BBC has talked to three of them, all of whom share a desire to transform lives in the developing world.
MEDICAL TOYS
Jose Gomez-Marquez has taken an unusual approach to making medical devices for the developing world
Rather than stripping down complex medical equipment, he uses toy guns and Lego.
"Toys have amazing mechanical parts. To get a part made from scratch could cost hundreds of dollars but I can go to a market and find toys very cheaply," he said.
So the trigger of a toy gun can be taken apart and attached to an IV drip to provide a sound alert when the drip is running low.
Lego bricks can be moulded to create tiny conduits for medicines in simplified labs-on-chips.
And nebulizers can be made out of bicycle pumps.
Mashing up technology is the key to his Innovations in International Health team which is based at the Massachusetts Institute of Technology (MIT).
Collaboration with the wider medical community is also important, but the key to the success of his designs is talking to those on the ground who will use the equipment.
By cooperation with health care workers in Nicaragua, Mr Gomez-Marquez and his team at MIT came up with a system to persuade TB patients to take the medicines they needed to help cure them.
Health workers suggested that a good incentive would be offering patients mobile phone top-ups, so the team designed test strips which, once used, revealed a code which people could text to receive phone credits.
Mr Gomez-Marquez is also creating kits for field workers, with a range of parts that they can use to build their own makeshift medical equipment.
"I couldn't build them a clinic but I can provide them with a Lego kit for them to make their own devices," he said.
AFRICAN TRADE
Femi Akinde decided to create SlimTrader when he realised that he couldn't buy a plane ticket online when he was in Africa.
"Consumers aren't able to access data, and goods and services don't tend to be online anyway," he said.
To combat this dual problem, Mr Akinde decided to link retailers with customers via a platform that everyone could access - text messaging.
SlimTrade is in the early stages of development but hopes to launch in Uganda, Kenya and Nigeria over the coming months.
The service will allow, for instance, a farmer trying to source fertilizer to send a text message and get a response from SlimTrader outlining all the distributors near to where he lives.
"He can find someone who is a credited distributor so he knows he won't be sold fake fertilizer, which is a very big problem. And he doesn't have to leave his house," explained Mr Akinde.
Mobile phone usage is exploding in Africa and it has allowed mobile banking to take off, bringing previously undreamt of financial services to people.
By tying businesses to customers in a similar way, one of the biggest gaps between the developing and developed world can be closed, explains Mr Akinde.
"Buying online is something the Western world takes for granted. I don't buy anything unless I can find it online," he said.
And in Africa, instant access to a range of services can be really transformational.
"It means people can plan a trip ahead of time and they won't have to travel great distances and not know whether they are going to find what they want at the end," he said.
LIGHTS ON
In Guatemala, 20% of the population has no access to electricity.
It was not a problem that affected Manuel Aguilar who had moved to the US to study and then went on to work in the financial markets.
But one day he had a lightbulb moment.
"I was helping rich people get richer and I thought my skills could be better used," he said.
Back home in Guatemala, he founded Quetsol, an energy company offering a simple solution to the lack of electricity.
The firm makes kits, which consists of a battery, an LED lightbulb and a small solar panel. So far it has sold 1,000.
The battery also offers a socket which allows people to charge their mobile phones, something that was far from easy before.
"People used to have to walk two hours to charge their phones and pay for it," said Mr Aguilar.
In the next few months Quetsol plans to launch a 30 watt battery which will allow people to power a computer.
"It will give families internet access and education for their kids," said Mr Aguilar.
At £240, the kit isn't cheap but the company had done a deal with the biggest bank in Guatemala which allows people to pay $13 a month.
"That is what they would have spent on candles," said Mr Aguilar.
Despite the surprising simplicity of the kit, there is little to rival it in the country and Mr Aguilar hopes his personal approach will pay dividends.
His mobile phone number is printed on the back of the battery pack and he prides himself on customer service.
"If something is wrong with the kit we tell them to take it back to where they bought it and they will get a new one. They have never had service like this before. It is about treating the customer with respect," he said.