Facebook and Skype's video chat link-up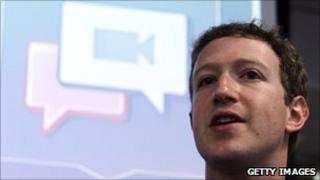 Video chat features are set to become the killer app in the world of social media now that Facebook has announced a partnership with Skype to offer just such a product hard on the heels of one rolled out by its rival Google.
The deal means that Facebook's 750 million users will now be able to connect with friends via video and not just through posting messages and poking one another.
The tie-up comes just one week after Google announced its social service called Google+ to a small invited group of users.
The search giant's video offering called Hangout has received rave reviews so far. It allows up to 10 people to connect with one another at any one time while Facebook can only connect people on a one on one video chat.
But Skype's CEO Tony Bates told press reporters and bloggers at the event launch in California that other features are on their way. No prizes for what that means.
The timing of Facebook's announcement could not be more annoying for the company. Of course the Skype deal is not a response to Google and Facebook has been working on it for months.
But the last thing the social networking behemoth wants is the constant reference that Google, regarded as a Johnny-come-lately as far as social is concerned, got video chat out of the gate first.
Remember Google's previous forays with Buzz and Wave have been regarded as failures in the social arena. And Google's former chief exec and now chairman Eric Schmidt told the recent AllThingsD tech conference that he screwed up in getting Google into social.
Google+ looks like the company may well have turned a corner, but of course the real proof will be when the product is opened up to a wider audience.
The rumour is that there will be a fuller public launch in the coming weeks.
Meanwhile it faces tough competition with Facebook's phenomenal 750m user base.
Social future
At a question and answer session after the Facebook/Skype launch, Facebook's chief executive Mark Zuckerberg was reluctant to give his opinion on Google's social service.
It has been noted that he has an account there and is one of the most followed users on the nascent site.
However Mr Zuckerberg did say that he thought companies in the future cannot ignore the power of social when building products, a theme he has discussed in the recent past.
"I'm not going to talk too much about Google. Lots of companies that have not traditionally looked at social networking apps not just Google will be trying apps," said Mr Zuckerberg.
"I view a lot of this as validation of how the next five years will play out - every app will be social," he added.
Mr Zuckerberg said that means focusing on what matters, which is making products users will use.
While he revealed that the site can now boast 750m users, the more important metric is the one that shows users are spending twice as long on the site compared to a year ago and are sharing four billion items from photos to status updates every day.
Clearly he believes video chatting will make Facebook even stickier for users.
Closer contact
We are trying to get people closer to face-to-face communications, Peter Deng, Facebook's product manager told BBC News.
The world is becoming smaller because of technology and this helps you feel like you are more connected.
It is absolutely a game changer in breaking down the barriers between friends and loved ones and connecting the world.
As for it being the new killer app, well yes, of course it has been said before.
MySpace co-founder Tom Anderson said that is what he and his fellow execs thought they had when they added the feature seven years ago.
MySpace also had one-on-one video chat back in 2004. The point is that people weren't really ready for it back then. Now is the time, and Facebook has the user base, Mr Anderson told the techblog TechCrunch.
And please note of course that MySpace, which was once the dominant social network, was bought in 2005 for $580m by Rupert Murdoch's media empire and sold last week for $35m.
The rise and fall of the company is clearly something Mr Zuckerberg remains cognisant of.
"We just have to stay focused on building the best service... If we don't, someone else will."
Will it be Google+ or some other company? Only time will tell.