Ofcom draws up UK broadband map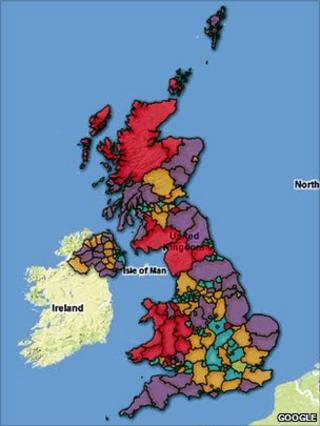 An interactive map, created for the telecoms watchdog Ofcom, has revealed the state of broadband around the UK.
It shows that 68% of homes had a fixed connection with an average speed of 7.5Mbps (megabits per second).
Residents of Luton and Newtonabbey were most likely to have access to superfast broadband (over 24Mbps).
But 14% of connected households remained in the slow lane with speeds of less than 2Mbps.
The clickable map allows people to see what take-up and speed is like in their area.
"We are now developing a clear picture of the UK's fixed broadband infrastructure and how it delivers for consumers," said Ofcom's chief executive Ed Richards.
"We hope that this information will stimulate further rollout of broadband infrastructure and better performance for households and businesses."
Cash for connections
Ofcom hopes that the data will be useful to local authorities as they bid for money to bring faster services to their areas.
The government has set a target of making the UK the best place for broadband in Europe by 2015.
Both BT and Virgin are expanding their superfast broadband networks and some extra government money (£830m) has been made available to stimulate roll out to areas that might otherwise be considered not economically viable.
The map ranks each area according to four criteria:
availability of superfast broadband (defined as speed above 24Mbps
average broadband take-up
average speeds
percentage of homes with less than 2Mbps
Areas have been colour coded, with green ranking highest and red lowest.
Slow burn
Brighton and Hove had the highest take-up of broadband services with 80% of residents connected.
People in Edinburgh enjoyed the fastest average speeds of 10.1Mbps.
Northern Ireland had a high availability of superfast broadband - 97%, although there was no indication of how many people were using the faster services.
Some experts claim that take-up of fast broadband services has been slow.
Sebastien Lahtinen, co-founder of broadband news site ThinkBroadband believes that Ofcom should have included more data.
"The mapping of broadband take-up data is quite interesting, although I would like to see more exploration of other data sets (population age, income, etc.) which should be available as it's the correlation between these different factors which would be quite helpful in identifying trends.
More details on the reasons for lack of take-up would also be helpful," he said.