Cost of Euro mobile roaming falls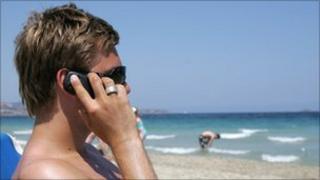 The cost of making and receiving mobile phone calls while travelling in Europe has come down again.
From today, operators cannot charge more than 32p per minute (plus VAT) for outgoing calls, and 10p per minute (plus VAT) for incoming calls.
The new tariffs are the latest in a series of annual price reductions forced on the mobile industry by the European Commission.
Brussels has said it aims to equalise roaming and domestic charges by 2015.
Price regulation was introduced in 2007 by the then commissioner for information society and media, Viviane Reding.
Since then, the maximum call charge has been reduced by approximately 6% per year.
A group of UK mobile operators - O2, Vodafone, Orange and T-Mobile - attempted to challenge the Commission's price-cutting agenda, taking their case to the European Court of Justice.
However, their complaint was dismissed in June 2010.
Along with the lower rates for phone calls, the commission also reduced the wholesale rate of mobile data from 80 euro cents (72p) to 50 euro cents (45p) per megabyte.
Whereas the price cap on voice calls applies directly to the way consumers are billed, the data changes only affect what operators charge each other. There is an expectation, rather than obligation to pass on the savings.
Operators are compelled to place a 50 euro (£45) cap on users' data consumption, in order to avoid unexpectedly high bills. Customers who wish to continue their data roaming can request to have the limit removed.