Virgin rapped on broadband claims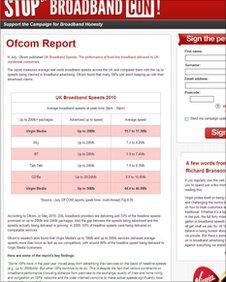 Virgin Media has been reprimanded by the Advertising Standards Authority for an online campaign accusing rival broadband services of "conning" customers.
The campaign, called "Stop the broadband con" was aimed at changing the way other broadband providers advertised their services.
BT and Sky complained and the ASA ruled in their favour.
It means the campaign cannot appear in its current form again.
The website launched by Virgin included a letter from Richard Branson, claiming rivals were "not keeping their promises", a speed test, and links to Ofcom's official broadband report. It also featured a video, parodying Sky's broadband advert.
It encouraged users to share the information with their friends and it was this viral element of the campaign that allowed the ASA to apply its advertising rules to it.
"We considered the ad went beyond highlighting the disparity Virgin believed existed between advertised broadband speeds compared to those that were delivered and implied that other ISPs dealt with consumers dishonestly in relation to broadband speeds," the ASA ruling said.
Virgin Media argued that its campaign was intended to highlight "widespread dissatisfaction among consumers about the advertising of broadband speeds."
It is an issue that has been highlighted by Ofcom. Research conducted in March found that just 14% of customers on 'up to' 20Mbps services received speeds of over 12Mbps, while 58% averaged speeds of 6Mbps or less.
In response to the ruling a Virgin Media spokesperson said: "Advertising 'up to' broadband speeds you can't deliver is a con. The ASA, Ofcom, numerous consumer groups and thousands of internet users have all reiterated our call for change and, instead of complaining about a legitimate effort to give consumers a voice in the debate, Sky and BT should step up to the challenge and start being honest about their broadband," a Virgin Media spokesperson said.
It has called on Ofcom to force providers to advertise typical speeds rather than 'up to' speeds.
BT welcomed the ASA's decision.
John Petter, managing director at BT Retail, said: "This is incredibly embarrassing for Virgin Media: its campaign for the industry to use 'average' as opposed to 'up to' speeds relied on misleading broadband users to make its point."
The ASA also told Virgin Media "to ensure their marketing material did not discredit or denigrate other marketers".