Sony boss Howard Stringer takes a pay cut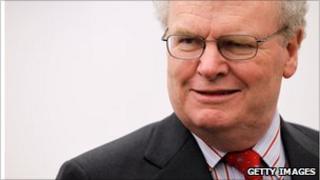 Sony boss Howard Stringer took a 16% pay cut last year, the electronics and media giant announced at a shareholder meeting on Tuesday.
His salary and bonuses fell to 345m yen (£2.7m) - a drop from 408m yen a year earlier.
The fiscal year, which ended on 31 March, is Sony's third year of losses.
The company is still recovering from the damage to its factories, hit by the recent earthquake and tsunami, and from a series of security breaches.
Speaking at Sony's annual meeting in a Tokyo hotel, Mr Stringer praised PlayStation network gamers for coming back after the hacking attacks.
He said that up to 90% of subscribers have remained loyal to the network.
Despite the chief executive's apology for the hacks, some shareholders appeared frustrated, with one person asking for Mr Stringer to step down.
The data breaches have made the company's stock price slide by 30% this year.
Hacker group Lulz Security claimed responsibility for the attacks.
Global leader?
But Mr Stringer seemed positive about the firm's future.
"Our brand perception, you'll be happy to know, is clearly improving again," he said.
"My foremost responsibility to the board and all of you is to further advance the transformation process, firmly establish Sony's position as a global product, content and service leader in the networked digital era and ensure our continued development and growth," he added.
According to the company's estimates, the attacks will cost it 14bn yen (£108m) in increased customer support costs, welcome-back packages, legal fees, lower sales and measures to strengthen security.