Is Facebook still making friends?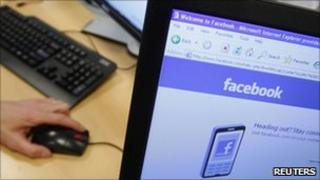 Is Facebook forging relentlessly onwards towards world domination - or has it peaked, a social network that appeals more to silver surfers than young digital natives?
Two recent research reports reach very different conclusions - but on closer examination both may be telling the same story.
The latest figures from Nielsen, which has been tracking Facebook for some years, show record numbers of UK visitors to the social network.  
In May this year 26.8 million people visited the site, with Facebook leap-frogging MSN to become the UK's second most visited site. Even more significantly from the point of view of advertisers, each user is spending more time on the site - an average of six hours and 39 minutes a month in May 2011, compared to five hours and 56 minutes in May 2009.
And while there's been lots of talk of a mass migration to the more fashionable Twitter, Nielsen's figures show Facebook does not have much to fear on that front. Yes, UK Twitter users were up from four million to six million in a year, but each one is spending just 24 minutes a month on the site.
But a couple of weeks ago, research from Inside Facebook painted a different story, and sparked off headlines around the world suggesting that Mark Zuckerberg's business was on its way out.  
The report said that between May and June, Facebook had somehow lost six million users in the United States, and around 100,000 in the UK.
A blip?
How to reconcile the two stories? First of all, it's important to say that the Inside Facebook research was vastly over-interpreted - not by the site itself, but in the headlines it produced. The report stressed that this could be just a one-month blip and that overall user numbers were rising, with countries like Brazil and India seeing rapid growth.
Then there's the fact that Nielsen and Inside Facebook are measuring different things over different timescales.
Nielsen gives an annual snapshot of Facebook's web traffic in May, whereas Inside Facebook gets figures every month from the network's advertising platform - though I'm a little hazy about the precise source of that data.
So it's perfectly possible that Facebook's growth continued to May - as shown by Nielsen - but levelled off or even dropped slightly in June, as Inside Facebook suggests.
After all, both reports show that around half of the UK population has now joined up - so it would hardly be surprising if growth had now peaked.
What Nielsen's data also shows is a big growth in the use of Facebook by the over-50s. That may be a double-edged sword - affluent older users will be attractive to advertisers, but if younger members decide they don't want their news feed cluttered up with their parents' news, they could begin to melt away.
For a business with a sky-high valuation, and planning a stock market debut next year, all of these figures are hugely significant.
Facebook is confident that it can reach the billion user milestone relatively quickly, as developing countries get more of their populations online. But most of the revenue it needs to justify a $50bn dollar price tag will come from territories like the US or the UK - and any suggestion that Facebook users there are getting a little weary with the whole business could be disastrous.
More than MySpace
And today another piece of analysis suggests just that.  
An economist and statistician Neil Charles has looked at Google search data, and concludes that Facebook's growth has pretty much ground to a halt in Europe and the United States.
He points out that the same thing happened to MySpace quite a long time before it went into a downward spiral, and suggests that Facebook has "become vulnerable for the first time in its short existence."
I don't really buy that - Facebook is far more widely used and cemented into millions of people's social lives than MySpace ever was.
But the closer it gets to the IPO that will make billions for its founders, the more nervously every piece of research about Facebook's users will be examined by them and by the market.