Twitter's European boss warns users may face court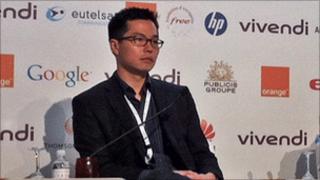 Twitter's new European boss has suggested that users who break privacy injunctions by posting on the site could face the UK courts.
Tony Wang said people who did "bad things" needed to defend themselves.
He warned that the site would hand over user information to the authorities where they were "legally required".
Lawyers are challenging Twitter in court to reveal the identities of Twitter users who violated a super-injunction.
MP John Hemming named Manchester United footballer Ryan Giggs in Parliament on Monday as the footballer who had used a super-injunction to hide an alleged affair, after Mr Giggs' name had been widely aired on Twitter.
Responding to a question from BBC News at the e-G8 forum in Paris, Mr Wang said: "Platforms have a responsibility, not to defend that user but to protect that user's right to defend him or herself".
He declined to comment on the case directly but explained that in general, when dealing with cases of illegal activity, Twitter would comply with local laws to turn over user details.
He stressed that the site would also notify those individuals of any such request.
Little sympathy
Mr Wang made it clear that if the matter came to court, those people would be on their own.
He said Twitter would, "let them exercise their own legal rights under their own jurisdiction, whether that is a motion to quash the order or to oppose it or do a number of other things to defend themselves."
The subject of legal jurisdictions and the internet has been hotly debated at the first e-G8 summit.
Technology industry leaders including Google's Eric Schmidt and Facebook founder Mark Zuckerberg were among the speakers at the event.
While many attendees felt that there was a need for further discussion, among delegates from the United States, there was little sympathy for the British legal position.
"I do view it to being similar to the Chinese situation where they also cover up misdeeds of high ranking people," Wikipedia founder Jimmy Wales told the BBC.
He said that, although the internet was a global phenomenon, it was unlikely to pander to those countries with stricter rules.
"The US is going to be absolutely inflexible on this point. It is in the constitution," he said, referring to freedom of speech provisions.
"I think that puts intergovernmental communication and co-operation on this issue into a different light, which is, there's not a whole lot to co-operate on."