Brussels readies net piracy purge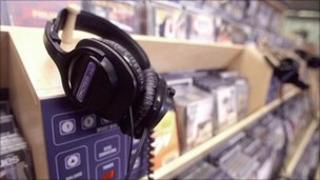 Europeans who pirate pop songs or movies online could face a new crackdown as Brussels proposes updates to intellectual property laws.
The re-written strategy may draft ISPs into the battle against those who pirate and share content online.
Critics said the strategy threatened to harm privacy in the name of identifying persistent pirates.
The European Commission will publish its strategy for updating IP laws on 24 May.
The refreshed Commission strategy aims to standardise the way all member nations treat patents, trademarks and copyright. It also plans to bring in new customs regulations to cover the treatment of suspected counterfeit goods.
Copyright laws needed revising, said a Commission statement, because the different ways they were handled in member states was hampering economic growth. Many online entertainment services held back from launching their services throughout the region because of the difficulties, it said.
Four times as much legal music is downloaded in the US than in the EU because copyright is easier to sort out in America, it said.
Jobs are being lost because of growing production of counterfeit goods while the pirating of creative works also hit national budgets through lost tax revenue, said the statement.
Diametric opposition
Details of the strategy have leaked out and reveal that the Commission plans to make greater use of intermediaries such as ISPs to tackle copyright infringement at source.
Online rights and consumers groups have criticised the revamped strategy and its focus on copyright infringement.
BEUC, an umbrella group that represents consumer groups across Europe, said the IP strategy was "woefully out-dated" in the way it treated copyright.
Peter Bradwell, a campaigner for the UK's Open Rights Group, said the broad crackdown being suggested was misplaced.
"Currently they are in danger of weakening privacy in favour of rights holders," he said.
The strategy could prove problematic for the UK government, said Mr Bradwell, if it adopts the recommendations of the Hargreaves report.
Written by Professor Ian Hargreaves, the report aims to update UK copyright laws and recommends legalising some copying of music and films.
Many of its conclusions were "diametrically opposed" to those in the Commission's strategy, he said.
"The UK government is going to have its work cut out to implement Hargreaves given the direction that the European Commission is pursuing," said Mr Bradwell.