LinkedIn: A social network but not for losers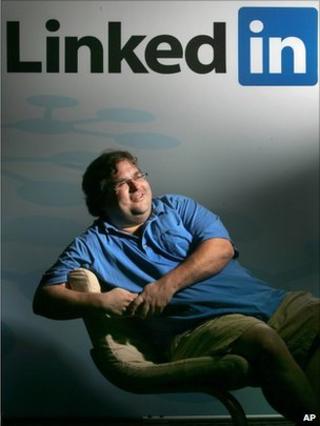 It's the quiet one in the noisy world of social networks but today LinkedIn becomes the first to prove that the stockmarket will buy the idea of sharing your life online.
Today's IPO will value the business at over $4bn (£2.5bn) - which is funny, because a few years ago I told its founder that LinkedIn was "Facebook for losers."
I was trying to get a cheap laugh in a debate at the Cambridge Union on whether Europe might overtake Silicon Valley as the place to start hot tech businesses.
I went on to tell Reid Hoffman that LinkedIn was something desperate middle managers joined when they were about to be made redundant and wanted to put their CVs online.
He took it in good spirit - and punched back with the revelation that I was on LinkedIn so what did that say about me?
And now Mr Hoffman is having the last laugh, as the flotation makes him immensely rich. One of Silicon Valley's most engaging and thoughtful entrepreneurs, he was also an early backer of Facebook.
Yet at first sight, he cuts an unlikely figure, a large dishevelled man in jeans and a scruffy sweatshirt.
When I first met him at that Cambridge event, his fellow Silicon Valley entrepreneurs could barely contain their mirth when he appeared in a suit - the first time they had seen him dressed up.
But he's proved he's smarter than just about any of his rivals.
Glorified Rolodex?
LinkedIn now has more than 100 million members, and by concentrating on being a serious place for professional networking - rather than somewhere to post pictures of last night's boozy party - it's been able to generate some serious revenues.
The trick it's pulled off so far is to become increasingly useful as a free service to members looking to advance their own careers, while earning money from businesses using LinkedIn as recruitment and advertising platform.
The IPO prospectus warns that there are plenty of risks ahead - other social networks could copy the model, other sites might prove more attractive to recruitment advertisers.
And $4bn looks a very fancy price for a company with revenues last year of $243m and profits of $15.4m.
That looks modest compared with the figures of $50bn and more being bandied around for Facebook's valuation.
Mark Zuckerberg's much bigger social network is seen as being far more attractive to advertisers than LinkedIn, and, in relation to its revenues, is being valued roughly twice as highly.
Both price tags will look dumb to those sceptics who see Facebook as an ephemeral craze for people with poor social skills and LinkedIn as little more than a glorified Rolodex.
But Reid Hoffman who started one network and invested in another at an early stage now looks anything but a loser.