Google's Eric Schmidt on the Google Review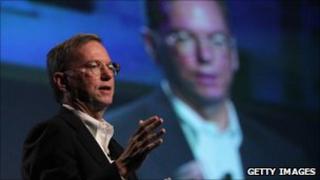 It was dubbed by some the Google review, so who better to comment on the Hargreaves Review of intellectual property than the chairman of Google?
And luckily, on the very day that the review recommending changes in the UK copyright regime was published, Eric Schmidt was around to be quizzed.
The man who's just moved out of the CEO's office to make way for Larry Page spent half an hour talking to journalists during a break at a Google event in a Hertfordshire hotel.
When I asked him whether Google's founders had - as David Cameron claimed - said they could never have started their business in the UK because of our copyright laws, he looked puzzled.
"I'm not aware of that quote," he said. But Mr Schmidt said he did believe that it was still easier to get a business like Google underway in the United States than in Europe.
Smear campaign
"You need to be able to get enough steam behind you before you get injuncted out of existence," he explained.
He had only seen a one paragraph summary of the Hargreaves conclusions - which of course do not advocate bringing in the American fair use system - but he said Google was supportive of the report.
And when we went on to discuss the recent launch of the Google Music service there was a good example of how adjusting the copyright laws could help get innovative ventures off the ground.
The service, only available in the US, enables users to store their music on Google's servers in the "cloud", so that they can use it on any connected device.
But it was launched without an agreement with the music industry after very lengthy negotiations, which, according to Eric Schmidt, did not fail for lack of effort on Google's part.
"It is completely legal under American law," he told us," because it's a personal back-up copy, not a shared copy." But would it be legal under UK law?
"That's a very good question," he replied, going on to say the company had made a decision not to launch outside the US because of legal concerns.
But one of the measures proposed by Hargreaves - permitting so-called "format shifting" where users copy music for personal use, could change the outlook for this kind of service.
Mind you, a music industry executive told me last week that he and his colleagues would not be at all enthusiastic about a UK version of the service from the company they regard as one of the prime facilitators of piracy.
On another hot issue, the incident last week which saw Facebook revealed as having tried to plant negative stories about Google, Mr Schmidt refused to be drawn.
"Ask Facebook about Facebook, ask Google about Google," was all he'd say. Luckily, his amiable European director of communications DJ Collins intervened: "If I suggested we did something like that, I'd be fired," he said. Phew, thought the assembled hacks, we've got our quote. Thanks, DJ.