Google chairman Schmidt promises privacy controls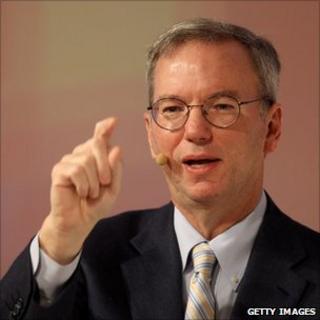 Google chairman Eric Schmidt has promised that the firm will simplify the process by which Android phone users agree to share their data.
It follows questions in the US Senate about how much location information is stored by mobile handsets.
Speaking in the UK at a conference on privacy, he also revealed that Google planned to offer web users more control over their online profile.
Mr Schmidt insisted that the company took the matter "very seriously".
He told attendees at the Big Tent debate in Hertfordshire that his firm was working on "a series of projects" aimed at increasing transparency.
Those include a revised Google Dashboard, where users can see what data they have shared with the search giant.
"It is worth stressing that we can only do this with data you have shared with Google. We can't be a vacuum-cleaner for the whole internet," he said.
Mr Schmidt stressed that Google was on the side of consumers when it came to privacy. "In general we take the position that you own your data and should be able to opt in or out of a service," he said.
But he added that if users gave consent for sharing data, it would help Google improve its services.
"If you choose to give us that information we can do a better job. If we know a little bit more about you we can offer better targeted search," he explained.
Super-injunctions revealed
A recent hearing in the US Senate quizzed Google on the amount of data stored on Android handsets. The company argued that it allows people to opt out of location-based services.
But Mr Schmidt conceded that the terms and conditions whereby users sign up to services needs to be simplified. "We intend to do that," he said.
He predicted that such services would be more heavily regulated in the future.
During a lively debate on the issue of privacy, it was revealed to the Big Tent audience, alongside several names of current super-injunction holders, that more data has been collected in the last seven years than in the whole of previous human history.
Simon Davies, head of Privacy International, said it was a mistake to see privacy and the needs of corporations as conflicting.
"There is this myth that privacy stifles innovation. It helps to reassure consumers, therefore encourages innovation," he said.
Meanwhile media executive Peter Bazalgette argued that people should have the right to delete data to give them a clean slate from, for instance, compromising pictures on social networks.
At the same time, some would choose to share more information. "Individuals will sell personal data in return for content," he said.
Not everyone felt that Google Dashboard went far enough when it came to protecting personal data.
What people really need is a "dashboard for their lives", argued David Alexander, director of Mydex, a social enterprise that is designing a platform where people can manage all the data they share with others.
Creating such a "personal data eco-system" would allow people "to stand on an equal footing with government and big corporations", when it comes to data sharing, he said.
Mr Alexander suggested that Google would be very welcome to sign up to it but that it would have to agree not to share information with advertisers.