Netflix dominates US net traffic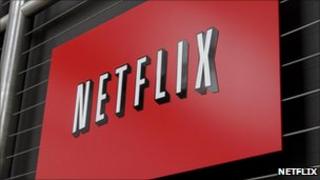 Movie and TV streaming site Netflix is now the single biggest source of internet traffic in the US, according to research.
The data, gathered by network monitoring firm Sandvine, showed that in March the site accounted for 29.7% of downstream traffic at peak times.
That is more than web browsing and peer-to-peer file sharing.
Experts warned that as the trend grows, internet service providers will face costly upgrades to satisfy demand.
Even at off peak times Netflix accounted for a 22% average traffic share over a 24 hour period.
The site's popularity is part of a wider change in the nature of internet traffic.
The Sandvine report suggests that "real-time entertainment" - streaming of video and audio - is "continuing its journey to network dominance" and is responsible for 49.2% of peak time internet congestion in the US.
That represents a 44% increase since Autumn 2010. Researchers warned that at the current rate it would make up 55%-60% of all traffic by the end of the year.
Traffic hog
In Europe, such streaming accounts for 33.2% of internet traffic, a percentage which has been rising for the past three years.
Netflix is not available in the UK, but Sandvine said that the BBC iPlayer - the biggest streamer of commercial content in the UK - has a 6.6% share of peak traffic.
YouTube remains the biggest video streaming site in the world, but the Google-owned site has shorter videos of lower quality - meaning small file sizes and less bandwidth consumed.
Changing patterns of consumption present a big challenge for internet service providers which can struggle under the strain of big live events such as the World Cup or the Royal Wedding.
Simon Davies, co-founder of UK-based IDNet, said ISPs were not geared up to take over from TV broadcasters.
"The problem comes with events like the World Cup and the Olympics, where you get 'flash floods'," he said.
"It's very difficult to engineer a network that can scale to four times when there's a 'flash flood'. The Olympics are going to cause a problem."
In the past, ISPs could handle heavy-loads by slowing down certain services, such as peer-to-peer file sharing, at peak times to manage the load.
"The problem with real-time content like movies or television content - especially or more so if it's live - is that you can't really do that because the user experience deteriorates," explained Sebastien Lahtinen from ThinkBroadband.com.
A spokesman for the Internet Service Providers Association told the BBC that the industry has acknowledged the challenges.
"ISPs are aware of this issue and manage their networks appropriately to cope with high quality content and continue to invest in upgrading their networks to improve capacity.
"ISPs also offer a number of broadband packages to accommodate users that require high bandwidth services.
"The UK's broadband market is extremely competitive and continues to deliver the best service possible for the end user."
However, Mr Lahtinen added that the user base demanding high-bandwidth services is growing rapidly, and that smaller ISPs may struggle to cope with investing in the necessary upgrades to keep a smooth service.
"If you have an ISP that's growing very very fast, who's trying to avoid paying very large costs until they absolutely need it, that's when you're more likely to see those problems," he said.