Android inventions: Atrix and HTC Flyer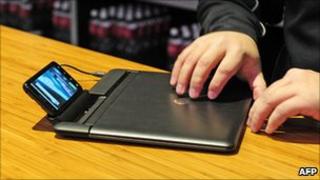 Google's Android operating system is growing up rapidly, and one sign is that it's becoming the leading mobile platform for innovation.
All sorts of companies are using Android to try out all sorts of new ideas. I've been trying out two devices from two major businesses which each attempt to change the way we work on the move.
The first is from Motorola which has a new phone out called the Atrix. It's an attractive touchscreen handset with very little to distinguish it from other top-end Android mobiles - dual-core processor, front and rear-facing cameras, loads of social media integration and a high resolution screen encased in a shiny black frame.
But what's different is a range of accessories which Motorola believes transforms the phone into the only computer you will ever need when you are on the road.
Moving around
There's a dock, which turns the mobile into a bedside alarm clock and music player, a bluetooth keyboard, which allows you to control the phone's media output when you've plugged it into a television (although I can't quite understand why you would want to do that), and then there's the idea which I found most convincing.
The Atrix laptop dock looks like an ordinary laptop computer - except it turns out to be just a dumb screen and keyboard.
The brain is the phone which you slot into the back, and the result looks like one of those Google Chromebooks we were promised in the summer.
Except that it's an Android computer which rather bizarrely uses the Firefox browser, not Google's Chrome.
Being connected
But once you've plugged in you can get online either via the phones 3G or its wi-fi connection, and it feels much like a simple laptop, except that when a call comes in, you take it through the laptop's speaker or plug in some earphones.
The dummy laptop also recharges the phone when it's docked, making it more likely to last through the day than many high-end smartphones.
Motorola hopes the Atrix set-up will be ideal for the travelling executive who wants to work on documents stored on the phone, or watch a movie, without carrying a fully fledged laptop or trying to tap away on a tiny screen.
I took the laptop dock out with me a few times and found it reasonably useful, though two things struck me. It weighs as much as a skinny laptop - and more than a tablet - and it's not cheap. Orange is charging £249 for the dock even if you've signed up to a contract, and it's even more if you buy it elsewhere.
Interaction
The other piece of Android innovation I've been trying out is from HTC, the company which has probably done more than any to make Google's mobile operating system a success.
The HTC Flyer is yet another new tablet and at first sight it doesn't appear to be that exciting. For one thing, it has a 7in screen, which still seems a rather in-between size to me, neither pocketable nor big screen. For another, it does not yet run Honeycomb, the flavour of Android optimised for tablets.
What is different is that it comes with a pen. Yes, I know pen-based computing has a long and sad history of trying and failing to convince consumers that the input device which works so well on paper can be an intuitive way to interact with a screen.
But the pen that comes with the Flyer just might work where others have failed. For one thing it provides an additional layer of interaction, with touch still the main way to make the tablet work.
So when you launch the tablets rather nifty notes app, you can call up a touchscreen keyboard or you can tap on the icon at the corner of the screen, choose a brush or pen, and start painting or writing.
Versatile
The notes app is also integrated with the Evernote online storage service, so that anything you write or record - there's a sound recording button in each note too - can be stored in the cloud.
The pen works elsewhere too, allowing you to annotate documents, tap to save a web page, or even scribble a note on a photograph.
I hadn't expected to find it useful - so was rather surprised to find myself reaching for the pen as I surfed the net, to highlight interesting articles, make the odd note in a meeting, or write a to-do list.
Mind you, it's the very fact that a keyboard on a 7in screen is a hard place to type that makes the pen attractive - on a bigger screen it could prove redundant. And once again, you pay a lot for this product, £599 for the 32GB 3G version.
Inventive
At 20 more than the equivalent iPad, with its bigger screen, it's hard to see this one flying off the shelves.
So, two innovative ways of taking mobile computing forward on Google's platform, and there are bound to be more as the ever bigger Android crowd provides an attractive market to target.
That should worry Apple, which tends to upgrade its products just once a year, and must now compete with innovations coming from a whole range of manufacturers.
What may comfort Steve Jobs and co, however, is that they are still providing a more complete ecosystem, as the jargon has it.
If you want to get a new movie onto your Motorola Atrix to watch on that laptop dock, or find a video editing app for your HTC Flyer, you will find Android still offers less of a seamless process than Apple, with its iTunes and App Stores.
But the race between Google and Apple to dominate the mobile computing industry is getting more intense, even before the Microsoft/Nokia combo starts firing on all cylinders. For consumers, the good news is that means more choice and a constant parade of innovative new gadgets.