Limewire pays $105m settlement to music firms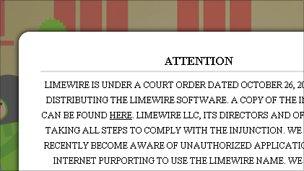 File-sharing software company Limewire has reached an out of court settlement with record labels that sued it for helping people pirate music.
The Lime Group, which developed the Limewire system, has agreed to pay $105m (£64.6m) to 13 music firms.
The figure is far less than the billion dollar bill for damages that the Recording Industry Association of America (RIAA) claimed it was owed.
The prolonged legal fight has led to Limewire being shut down.
Mitch Bainwol, chairman of the RIAA - which represents record labels - said the organisation was pleased with the result.
"This hard fought victory is reason for celebration by the entire music community, its fans and the legal services that play by the rules," said Mr Bainwol in a statement.
Limewire was a program that used peer-to-peer technology to help people find media on other computers and let others see their libraries of files.
The RIAA first took legal action against Limewire in 2006 shortly after concluding a $115m settlement with peer-to-peer software maker Kazaa.
In May 2010, the judge overseeing the case ruled that Limewire and its creator Mark Gorton had infringed copyright and aided others in downloading pirated music.
Another court ruling in the case in October 2010 led to the effective closure of Limewire as it was banned from letting people search, download, upload or trade files using the program.
An official updated version of the program has been distributed that stops people using Limewire to swap files in this way.
However, a pirate edition has been produced that leaves those services intact.
Related Internet Links
The BBC is not responsible for the content of external sites.