Apple and Google grilled over privacy concerns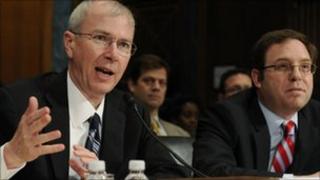 Google and Apple have been questioned in the US Senate over their use of location data in mobile services.
It follows revelations that iPhones and Android devices were storing information.
Governments around the world are considering whether privacy laws offer enough protection to consumers in the light of new services.
Senator Al Franken said people had a "fundamental right" to know what personal information was being stored.
Tuesday's US hearing could be used to inform future privacy laws.
The hearing was called by Senator Franken who said he wanted to "strike a balance" between the right to privacy and the increasing amounts of personal information available to large corporations.
"When I was growing up and people talked about protecting their privacy, they talked about protecting it from the government," he said in his opening statement to the Privacy Technology and the law subcommittee.
"Now we also have a relationship with large corporations which are storing increasingly large amounts of our information."
"I believe that consumers have a fundamental right to know what data is being collected, and they should have the right to decide if they want to share it, with whom and when," he said.
He stressed that the point of the hearing was not to stop location-based services from being created.
Drunk driving
Apple has faced increasing scrutiny after it was revealed that iPhones were storing data which, when used with certain software, could produce a detailed map of where a user had been.
In an update to its mobile operating system, it has since reduced the amount of data stored and allowed users to turn off location data storage completely.
Guy 'Bud' Tribble, vice president of software technology, represented Apple at the hearing while Google sent along its director of public policy, Alan Davidson.
Mr Tribble reiterated that Apple did not log information on users but did keep data on the wi-fi hotspots that people had used.
In its testimony, Google said that it gives users "clear notice and control; the set-up process asks users if they would like to allow Google's location service to collect anonymous location data".
During the hearing, New York Senator Charles Schumer asked why they allowed apps that helped users avoid police checkpoints for drunk driving.
Both firms agreed to look at the apps in question.
Location data is highly valuable to advertising companies, and there are likely to be increasingly personalised advertisements sent to users' smartphones.
Privacy campaigners warn that location information could also be used by insurers to set rates based on the places people visit - with regular gym-goers likely to get better deals, for example.
Mobile advertising could be worth over $3bn by 2014, according to analyst firm Ovum.
Tuesday's hearing was largely an education process but it could lead to laws restricting the amount of information that firms can access.
Three online privacy bills have been introduced in the US but it is unclear at this stage which, if any, will make it into law.