Google unveils first Chrome powered laptops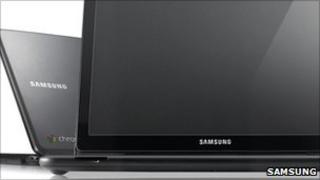 Google has unveiled the first laptops that will run on its Chrome operating system.
The machines, made by Acer and Samsung, will go on sale next month.
Unlike conventional computer systems which use installed software like Microsoft Word, Chrome is built around web-based applications such as Google Docs.
Some analysts have questioned whether users will want laptops that rely so heavily on an internet connection.
However, Google co-founder Sergey Brin, hailed the technology as a "new model of computing".
His comments came on the second day of the company's developer conference, where Google announced that so-called Chromebooks will go on sale in June.
Samsung and Acer will be the first manufacturers to offer the devices, for between $349 and $499, in the US and six European countries initially.
Google's aim is to encourage people to use web-based applications, claiming that that is where most people spend their time and that most tasks can be accomplished online.
The internet giant said because Chromebooks are not weighed down by software and applications common to most laptops, they boot up in eight seconds instead of minutes.
The company said battery life on the device will last a day, security updates will be done automatically and they will be faster than traditional laptops.
"It's a much easier way to compute... and Chromebook is venturing into a new model of computing that I don't think was possible even a few years ago," said Mr Brin.
"Ultimately the most precious resource is the user's time. I think the complexity of managing your computer is really torturing users out there. It is a flawed model and I think Chromebooks are a new model and this is the way things are going to be," added Mr Brin.
'Nothing but the web'
Six months ago a prototype of the Chromebook was introduced.
The CR-48 was given to developers, businesses, schools, journalists and reviewers to play around with and test.
During the Google IO conference, Sundar Pichai, senior vice president for Chrome, said that the pilot had over one million participants.
He told BBC News that the feedback from that programme helped underscore his belief that users are more than ready for this new shift in computing.
"Most people spend all their time on the web, and for the first time we have distilled the entire computing experience to be about nothing but the web," he told BBC News.
"End-to-end, I think your computing experience will be far simpler, safer and faster," added Mr Pichai.
"Today, most computers work where you have to interact with them and manage them. We have switched that around and I am genuinely convinced almost everyone is ready for it today."
There is some scepticism among those who follow the industry that ordinary consumers will embrace the move away from the norm.
"I think it is the future of computing, but I am not quite convinced it is the present of computing," said Steven Levy, senior writer at Wired Magazine and the author of a newly-released book on Google called In The Plex.
"Having used one of these CR-48's, I found some problems like in a number of cases not being able to get connectivity or get on fast enough. It wasn't as good an experience as my regular environment.
"That said I do think it is a great nudge to push us into what is the logical future of computing, but Google has to go out and sell this to convince everybody of that view," added Mr Levy.
The first Chromebooks will be available for order in the US, the UK, France, Germany, Italy, Spain and the Netherlands from June 15.
The price for the Samsung version will start at $430 (£265) for a Wi-Fi powered device and $499 (£308) for a 3G model. An Acer machine will start at $350 (£216).
Price, said Michael Gartenberg, a senior analyst with research firm Gartner, could be a stumbling block.
"The hardware looks interesting, but the problem Google and its partners are going to have is convincing someone to spend $499 (£308) on a device that looks like a laptop but does so many fewer things.
"A $499 laptop can also run Chrome and get most of the Chrome apps. I think people were looking for Google to not only come up with some sort of computing innovation, but to come up with some pricing innovation as well. And at $349-$499 (£216-£308), it is going to be a hard sell for consumers," Mr Gartenberg told the BBC.
Microsoft challenge
One area commentators think Google and its manufacturing partners might have some success is with the business world and also in education.
In a challenge to Microsoft, which rules the enterprise world with its Windows and Office software, Google is offering its cloud-ready Chromebook to businesses for monthly fee of $28 (£17) a person.
That will cover things like the cost of the device, necessary support, as well as machine upgrades and replacements.
Mr Pichai told a roomful of around 5,000 developers that the Google initiative would be one-third of what he estimated was the average $1,000 (£615) annual IT cost per employee.
Google is also offering a similar package to schools for $20 (£12) monthly fee per user.
"If they can make Chromebooks work for business and schools, it has the potential to be a lot cheaper for them, because they don't have to manage them and buy software, and they get replaced when they break," said Ina Fried, senior editor with technology sites AllThingsDigital.
"It is a really appealing vision for these sectors, but I also think that businesses and even students will find it hard to break away from the PC entirely, a way of working that many people have gotten used to over the years."
Google said that later in the year it expects a number of other manufacturers to offer Chromebooks at a number of different price points.