Keeping Britain's special effects dream alive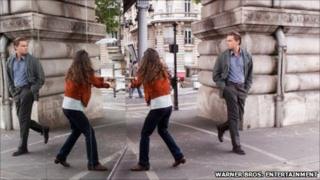 There is a scene in the movie Inception where James Cobb, played by Leonardo DiCaprio, goes on a recruiting mission.
He is looking for an "architect" - someone who can design dreams.
The job is not just about making money, he says, but "the chance to build cathedrals, entire cities, things that never existed. Things that couldn't exist in the real world".
It is an enticing pitch, and one that could be applied to another, more attainable profession.
Special effects post-production is the business of creating on film, things that were not there when the camera rolled.
When Iron Man dons his suit, or the Batmobile turns into the Batbike, you are watching this craft in action.
But what romantics chalk up to "movie magic" is often the product of many hundreds of people, endlessly pushing pixels around computer screens.
That makes it an industry, and one in which the UK is a world leader.
Digital economy
The country's reputation as the go-to Hollywood alternative was underlined at this year's Academy Awards when London-based Double Negative picked up the visual effects Oscar for its work on Inception.
The company, which has also been involved in the Harry Potter and Batman series, employs around 950 people at its headquarters in Soho.
Across the UK, approximately 5,000 people work in SFX post-production, according to the UK Screen Association.
But while business is currently booming, there are dark, computer-generated, clouds on the horizon.
A report, commissioned by the government and published earlier this year, delivered a worrying prognosis.
It warned that, while special effects was enjoying a rapid growth, the sector was also "having to source talent from overseas because of skills shortages at home".
The study, entitled Next Gen, concluded: "That is mainly a failing of our education system - from schools to universities and it needs to be tackled urgently if we are to remain globally competitive."
Part of the problem is the lack of awareness of the profession among young people, according to Paul Franklin, a visual effects supervisor and part of Double Negative's Oscar-winning team.
"There is not a huge amount of information available to them," he told BBC News.
"Typically you tend to find that students who are seeking out courses in visual effects and film-making are the self motivated types who have gone out and found the information themselves."
"It is something we work very hard at, but schools and colleges could be more aware about how a creative art education can be applied in the world of high-end modern digital media," he said.
Negative impact
Most companies involved in special effects production acknowledge that they too have a role to play in raising the profession's profile.
But the pool of potential recruits is unlikely to grow if no-one knows that such jobs exist.
Double Negative's Oscar win was universally hailed as a step in the right direction - raising the profile of the UK industry.
Although it is perhaps a curious irony that a business conducted in darkened rooms, whose product is consumed in darkened rooms, is being forced to seek the spotlight to ensure its continued survival.
"Being able to go into a school or college and take the Oscar with you and say 'look, this is a substantial tangible reward gained through what I learned at art school' really helps," said Mr Franklin.
The UK's deficiencies in providing appropriate education and training were characterised by the Next Gen report as a "gap".
Its recommendations for closing that include the addition of computer science to the national curriculum, encouraging an art-tech crossover and the creation of a visual effects talent careers strategy.
In the meantime, there are those who seek to build bridges between education and the industry.
Production line
Escape Studios is a private training school which offers courses in visual effects post-production, ranging from night classes to an MA.
The company began life supplying computer systems to businesses in the Soho district of London - home to most of the UK's SFX industry.
Now it supplies the staff too.
"We literally cannot train people quick enough to get out the door," said Mark Cass, Escape Studio's general manager.
"On our compositing course - a group finished last Friday and six of them were out for interview on the Monday."
Escape's philosophy is to recreate, as far as possible, the work environment that its graduates will hopefully enter.
Students are expected to follow a 9.30am-5.30pm working day.
They are also given the most up-to-date computer systems, replicating those used by prospective employers.
For all this, they pay a substantial fee - typically around £9,000, rising to £22,000 for the MA.
And while this is undoubtedly a commercial venture - Escape has just opened a school in Santa Monica, California - its staff are passionate about engaging young people.
"The level of IT that they teach [in schools] is ridiculous," said Lee Danskin, Escape Studios' training development director.
"It is like, 'here's Powerpoint, here's Excel and here's Word'. ICT lessons are just pushing packages around rather than coding or programming."
Mr Danskin is an enthusiastic supporter of the Next Gen report and its recommended overhaul of both school and university education.
Both men also agree, in a creative field, there is immense value in leading by example and inspiring the next generation.
"The Oscar was massive for the industry. We have always played second fiddle to the US and now it is time to step up," said Mark Cass.
Reaping rewards
Even if the prospect of a gold statuette does not appeal, the simple supply and demand economics of a profession crying out for talent may prove attractive.
Junior staff, recently graduated, can expect around £60-£70 per day working for a post production house, rising to £200-£250 after a few years' experience. A handful of senior figures command six-figure salaries.
However, according to Mark Cass, money is not the chief driver for most students.
"They are never really that interested in what they are going to earn. This is their passion.
"Nobody has ever asked me, straight off the bat 'how much can I earn?'," he said.
As Leonardo DiCaprio's character in Inception understood, the greatest motivator for creative talent is not a pile of money, but the desire to create things that couldn't exist in the real world.