Profile: How Skype connected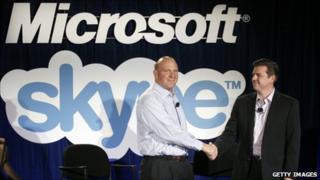 It has taken less than ten years for Skype to become a communications giant.
So much so that, like every major web success story, it now commands its own verb.
Its 660 million users have been Skype-ing each other for billions upon billions of minutes.
Each month there are an average of over 100 million active users. At peak times, 23 million of them talk simultaneously.
These numbers have proved impressive enough for Microsoft to buy the service for $8.5bn (£5.2bn) - its biggest ever acquistion.
Founded in 2003 by Niklas Zennström and Janus Friis, Luxembourg-based Skype struck an immediate chord with users, with some 1.5 million users eagerly downloading the software in the first six weeks of its beta testing.
Much of this early success was down to the founders' involvement with peer-to-peer file sharing site KaZaA, an at-times controversial but popular service which picked up the pieces when Napster crumbled under music industry pressure.
Skype's early boom was enough for Mr Zennstrom to declare that charging for calls belonged to "the last century".
Edging ahead
Yet while it was the free Skype-to-Skype calls that attracted the enormous numbers, it was Skype's paid options which allowed it to edge ahead of pre-existing rivals such as MSN and Yahoo.
Now, for a fraction of the cost of a traditional landline, Skype users could call anyone around the world. Later, powerful conference call features became available for efficiency-hungry small businesses.
Its use in the business world came at a cost, however, with many companies disallowing use of Skype in networks due to its bandwidth-hogging potential.
Despite this, Skype was quick off the mark in other business matters. In September 2004, years before the iPhone app boom, the service launched a mobile version for PDAs running on Microsoft Pocket PC 2003 and using Wi-Fi which, at the time, was a very rare commodity.
It all culminated in a buy-out which shocked industry analysts. In September 2005, eBay moved in, snapping up the company in a deal worth $2.6 billion (£1.4bn).
In a move that proved crucial in future legal wranglings, Skype's founders retained ownership of the technology underpinning the Skype service.
eBay hoped that integrating Skype into the auction site would give buyers and sellers instant contact with each other with just one click.
Skype, now 51 million users strong, was way ahead of its nearest rival Vonage, which had a mere 700,000.
In the same month, Microsoft had announced it was working on its own internet telephony service after acquiring Teleo, a small business specialising in VoIP technologies.
It was intended that Teleo would become integrated with Microsoft's Office products - plans now rumoured to be in the roadmap for Skype's future.
Vulnerable
With eBay at the helm, expansion of Skype's features was rapid.
Video-calling, which now accounts for 40% of all Skype calls, made its debut late 2005 as part of a beta release.
Early in 2006, Skype made another aggressive move into gaining ground dominated by established telephone operators when it teamed up with mobile operator 3 to allow free Skype calls over 3G networks.
Yet despite promising early signs, eBay's relationship with Skype eventually turned sour and, by 2007, was looking vulnerable as eBay admitted it paid too much for the company.
Its integration plans were simply not working, according to Leif-Olof Wallin, vice president of research firm Gartner.
"It sounded great but it didn't make sense to all of us.
"It doesn't necessarily lend itself to voice communication and video. The smartphone revolution hadn't happened, so you had to be tethered to a PC to do it."
At the same time, several key players left Skype - at a cost of $530 million to eBay - including the founders, who began to focus instead on video sharing site Joost.
Hot property
Eventually, in April 2009, eBay decided to get rid - a move which surprised industry onlookers almost as much as the decision to buy it in 2005.
The deal, which saw a 65% stake in Skype sold to private investment firms, was fraught with complications over the ownership of Skype's underlying technology which at one point threatened the service with shutdown.
The technology still belonged to founders Mr Zennstrom and Mr Friis, and as a result, the pair won back $400 million in shares.
Two years after they left, Skype's original founders were back.
In the months that followed - and despite downtime late last year caused by bugs in its software - Skype has regained its position as one of the internet's hottest properties.
Hugely popular iPhone and Android applications have opened the service up to a new user base, and integration with a raft of social tools is also helping growth.
With this acquisition, Microsoft will be looking to integrate it with their own devices.
"Reading between the lines, it could mean Skype arrives on Windows phones sooner rather than later," suggested Ovum principal analyst Richard Edwards.
Recent successes have seen it gain interest from Facebook and Google, who were rumoured to be part of a bidding war for the service.
But it is Microsoft that has come away with the deal.
Its chief executive Steve Ballmer has stuck his neck out - just as eBay's Meg Pickard did in 2005.
It is now up to Microsoft to achieve something no owners of Skype have managed so far: serious profits. A tough task, argues Ovum's Mr Edwards.
"I think if this one doesn't bear fruit it will be on Steve Ballmer's headstone."