YouTube gets serious about movies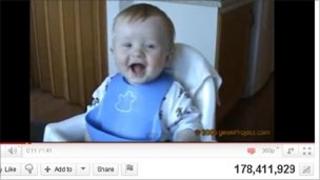 YouTube has signalled that it wants to go beyond cute cat videos and become a big player in movie rentals.
Sony, Warner Brothers and Universal have signed up to pipe movies to people via YouTube's on-demand rental service.
The deal means US viewers will get at 3,000 films and helps YouTube compete with Netflix, Apple, Amazon and others.
It will see classics such as Goodfellas and Caddyshack available to rent at $2.99. Newer releases such as The King's Speech will be available for $3.99. Some movies will go online at the same time as the DVD release.
"We want to get to a point where anything you can think of finding that is video related is searchable or recommended to you on YouTube," said Salar Kamangar, YouTube's boss in a rare interview ahead of the announcement.
"We can't get to everything from where we are now," he said. "We have to take steps toward that and that includes making deals."
Linger longer
The move rental deal is key to getting people lingering on YouTube. Currently, the average users spends about 15 minutes a day on the site. By contrast, average daily TV consumption is five hours.
"Television is very much the holy grail and at the moment YouTube is doing terribly there," said analyst James McQuivey from Forrester.
"In its current concept, they can't break through," he said. "People still think of YouTube as a place where people post funny videos of animals and laughing babies."
YouTube believes that perception will change as the number of internet connected TV's increases and the line between online video and offline content like television shows disappear.
"I can't predict exactly what the TV channel of the future is but we think more and more time spent on TV is going to be around web content and web video," said Mr Kamangar. "I think the next set of media companies are going to be created on the web and that YouTube is going to be a big part of that."
Google's pedigree in capturing and analysing user's like and dislikes could help a lot when it came to satisfying viewing appetites in the future. Especially, said Forrester's Mr McQuivey, because that was something big broadcasters and cable channels such as HBO or Showtime cannot do.
"To succeed in the living room they need to offer content that is customised and personalised," he said.
"Imagine you can tell YouTube you have an hour to watch TV and it would give you programming based around what you have watched in the past, what your friends watched and recommended, what your favourite celebrities tweeted about and on one piece of input from you about what mood you are in."
Watch this
The long form works will mean that people spend more time on the site and that means more cash for ads. Better revenues will help counter all those who refer to YouTube as "Google's folly".
"I do think Google is looking for YouTube to contribute more to the bottom line," said Matt Rosoff, West Coast editor of Business Insider. "In a recent earnings call [Google boss] Larry Page said YouTube is one of the four businesses that will drive future growth."
"They are definitely getting more serious about making money," he said. "This is the first set of deals with some big named studios and there will probably be more to come if studios see this as a success and there is money to be made."
Piracy concerns are thought to have stopped Paramount, 20th Century Fox and Walt Disney signing up to be rental partners.
Adverts are the key to YouTube's cash generation and it is working hard to put them around the more professionally produced content, including music videos, live concerts and sporting events, that are available via the site.
Citigroup research said the site generated about $544m in new revenue after paying content creators with which it shares ad revenue. That number is expected to grow to over $800m in 2011.
Chris Maxcy, director of partner development at YouTube, said the music industry was one of the first to see the site's potential as a way to get artists in front of new audiences.
Media companies, fans and artists were all using the site, said Mr Maxcy.
"The relationship with the industry has moved from one of scepticism to today which is how much more money can they make," he said.
He mentioned an example of a meeting with a major UK artist at which they pointed the 80,000 people that can see a live concert at Wembley is dwarfed by the 10 million available in two hours via YouTube.
"He immediately saw the draw from generating more ticket sales to selling merchandise and the music itself," said Mr Maxcy.
Big sporting events were waking up to the audiences available via the site. The Cricket World Cup racked up more than 55 million hits on the site.
Along with the movie announcement, YouTube said it will increase its investment in original content from its 20,000 plus partners and also from TV and Hollywood creators.
"We have gone from focusing on traffic to also monetisation and the next evolution is working with catalysing the creation of the next great networks and channels on YouTube," said Mr Kamangar.
Model behaviour
With 35 hours of video uploaded onto YouTube every minute, the site constantly grapples with how to make all that content easy to find and appealing to each and every individual.
Margaret Gould Stewart, director of user experience at YouTube, said the task was complicated because people access YouTube via e-mailed links, Facebook and embedded video.
"You have this emotional spectrum from hilarious college videos to devastating Iran protest videos and the quality ranging from hand-held to amazing professional footage," she said. "To design a single container that can feel aesthetically at home for all of that is a big challenge."
She predicted some design changes to the site in the near future as niche channels emerge and Hollywood content grows. But at the heart of these upgrades will be the consumer.
"The opportunities seem limitless but people's attention is not," she said. "I may come to the site at 9AM and want to be informed of what is going on in the world but at 4PM, I just want to laugh. It is easy to express the concept but hard to do it in reality.
"TV is evolving but our goal is not to evolve into TV," she said. "Our goal is to evolve into the future of whatever video production and consumption is. There isn't a model right now. We are basically inventing it."