YouTube founders buy Delicious from Yahoo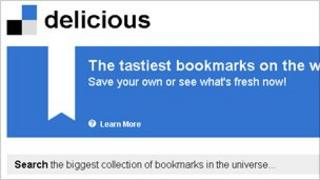 The founders of video-sharing site YouTube have bought bookmarking service Delicious from Yahoo.
Chad Hurley and Steve Chen will use Delicious as a key part of their next net venture called Avos.
The startup is thought to be based around tools that help people get to grips with the vast amount of information generated by web sites and services.
How much the pair paid to acquire Delicious has not been revealed.
Data deluge
Delicious describes itself as a social bookmarking system in which members flag and tag sites, articles and media they find interesting. These can then be shared with other Delicious users.
Its name derives from its desire to find the "tastiest" bookmarks on the web.
Delicious was acquired in 2005 by Yahoo and in late 2010 the web giant decided to sell it off or close it down if no buyer came forward.
Now Mr Hurley and Mr Chen have acquired Delicious to form part of the technology underpinning their new firm Avos.
Details about Avos and what it will do are scant. A statement from Chad Hurley following the Delicious acquisition said the company will aim to help people manage the information gushing from the web services they use.
"We see a tremendous opportunity to simplify the way users save and share content they discover anywhere on the web," Mr Hurley said.
The pair sold YouTube to Google in 2006 for $1.76bn (£1.06bn). Steve Chen left YouTube in 2008 and Mr Hurley quit working for Google in late 2010.
Delicious will continue in its current form until July 2011. Users are being asked to login to the service and agree to let Yahoo move their account to the new owners.