Kindle gets library book lending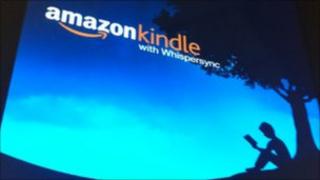 Users of Amazon's Kindle e-reader will soon be able to borrow electronic books from libraries in the US.
The retailer is teaming up with Overdrive, which already offers an e-book lending service through 11,000 American libraries.
Until now Kindle owners have been unable to download titles because the device uses a unique file format.
Overdrive also operates in the UK, however Amazon would not confirm if its plans include Britain.
It said the US system would launch later in the year.
Borrowed books will be available on Amazon's own Kindle reader as well as other devices running the Kindle software, including iPads and Android tablets.
Anyone wanting to borrow a publication must be a member of their local library.
Titles are downloaded through the library's website and are automatically removed after a set number of days, with a maximum loan time of three weeks.
Publishing system
Overdrive has been in business for several years and offers hundreds of thousands of books to readers whose devices use the epub file format.
However, Amazon has its own proprietary system, based on the Mobipocket format, which includes a digital rights management system to prevent copying.
The fact that Overdrive is finally adopting that technology has been broadly welcomed by industry watchers, but has left some distinctly underwhelmed.
"This is a me too move," said Martin Hoscik, who runs the website eBook Magazine.
"There is no innovation here. It is like congratulating Channel 5 for broadcasting their pictures in colour when everyone else has been doing it for years."
Nevertheless, the dominant position of Kindle in the e-book market is likely to raise the profile of library lending.
"I am in favour of anything that gives readers an opportunity to read more books via a library system," said Phil Bradley, vice president of the Chartered Institute of Library and Information Professionals.
UK libraries
Currently in the UK, 33 out of the country's 151 library authorities make use of the Overdrive system.
If that was to be extended to Kindles, questions would need to be answered about its implementation, said Mr Bradley.
In particular, he called for more details about Amazon's plan to let users add notes to e-books. "How will those remain confidential?" he asked.
Amazon has indicated that it will respect the terms of lending use laid out by publishers.
In the case of Harper Collins, the company has stipulated that its books, once purchased by a library, can only be made available for 26 loans, before being erased permanently.