Classic Commodore 64 lives again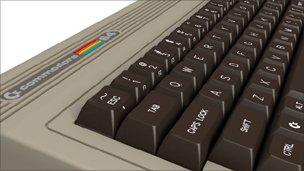 Fans of retro computing will soon be able to buy a modern PC clad in a classic case.
Commodore is making a Windows PC that fits inside a boxy beige shell that looks exactly like its original C64.
The 8-bit machine was released in 1982, had 64 kilobytes of memory and became one of the best-selling computers ever.
Commodore's updated version will run Windows 7 but also has an emulator capable of playing games written for its ancestor.
Commodore has started taking orders for the C64x, priced at $595 (£364), and said the machines would ship between May and June. It is expected to appear in shops later in the year.
The machine's internal hardware will be based around a dual-core Intel Atom D525, a chip typically found in notebook computers.
Its 1.8Ghz chip is far faster than the 8-bit 1MHz MOS 6510 processor used in the 80's original.
The C64x will also use an integrated Nvidia graphics chip and buyers have the option of equipping a model with a Bluray DVD player.
All the hardware for the machine fits inside the keyboard case.
The first models will sport the same taupe colour scheme as the original along with an "improved" keyboard.
Related Internet Links
The BBC is not responsible for the content of external sites.