Microsoft launches IE9 web browser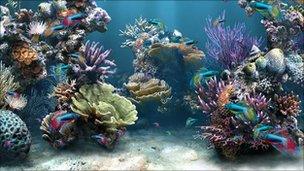 Microsoft has launched the finished version of its Internet Explorer 9 web browser.
The company said IE9's graphics handling, security and privacy features put it on an even footing with Firefox, Chrome, Safari and others.
The release comes as Microsoft's browser market share is being whittled down by a growing roster of rivals.
Competition is also coming from non-browser traffic generated by mobile phones and tablets.
Microsoft said one key feature in IE9 was tools to stop people being tracked as they move from site to site. This information is often gathered by commercial firms to tailor ads to the specific habits of web users.
In addition, said Microsoft, separate tools in IE9 keep an eye on downloads so they can spot when viruses and trojans try to sneak onto a computer.
IE9 also has hardware acceleration built in so it can call on the power of a PC's graphics card to display sites in more detail.
The launch comes at a critical time for Microsoft as, one survey suggests, its Internet Explorer browser is suffering a long-term decline.
While reliable figures on browser shares are tricky to compile, estimates from web analysis firm Net Applications suggest that IE has about a 56% share of the global market. The same study suggests Firefox has about 22%, Chrome 11% and Safari 6%.
In a separate study, figures gathered by security firm ZScaler suggest that up to 20% of web traffic is being generated by apps on smartphones and tablets and is not going through a browser.
Ovum analyst Richard Edwards said: "We believe the next battle ground for the browser wars will be fought not on the desktop, but on the smartphone and tablet."
"This is where Microsoft's existing browser offering still has a lot of catching up to do," he added.
Microsoft said the 40 million test, or beta, versions of IE9 that had been downloaded made it the most downloaded of all time. Already, it said 2% of Windows 7 users were running the latest version.
IE9 does not run on Windows XP and can only be used with Windows 7 and Vista.
Related Internet Links
The BBC is not responsible for the content of external sites.