Friends to help police bullying and abuse on Facebook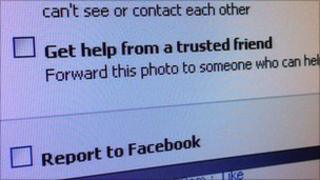 Facebook users who are being bullied or abused can now report the problem to friends, as well as site moderators.
The option to contact a "trusted friend" has been added to the website's safety centre.
Facebook said that the system was designed to help people solve online problems "face to face".
The changes were unveiled at the White House where President Obama and his wife Michelle hosted an anti-bullying conference.
Facebook's director of European policy, Richard Allan, said: "Often the best way of sorting offensive content is for friends to flag those things to each other.
For more serious concerns, Facebook can put users in touch with police or charities that can help them, said Mr Allan.
"In the real world you have a sense of when you need to escalate something to the right organisation.
"If someone is calling you names, it might not be appropriate to go directly to the police," he said.
Response time
Facebook has come under fire in the past for appearing slow to respond to concerns about online safety.
The UK Child Exploitation and Online Protection Centre (Ceop) waged a long-running campaign to have a "panic button" installed on the site.
Among Ceop's concerns was that Facebook's response centres may have insufficient staff to cope with reports from its 500 million global users.
Facebook has never revealed how many people it employs to handle complaints of bullying or abuse.
Richard Allan defended the current setup: "We are keen to always have the most efficient procedures and best people in place.
"It is not as simple as a ratio of reports to people. When we pick up a pattern of activity, we can create a system to monitor that," he said.
As well as trusted friend reports, Facebook has also revamped its safety centre, simplifying the language and improving its guides for adults and young people.
The changes were unveiled during a White House anti-bulling conference.
Ahead of the event, President Obama and his wife Michelle recorded a video message, posted on Facebook, saying that bullying is "not something that we have to accept".
Facebook recently teamed-up with the Samaritans to launch a reporting system for users concerned that their friends may be at risk of committing suicide.