Postie is UK cyber security champ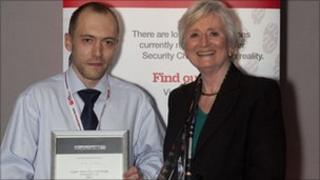 A postman from Wakefield has been crowned Britain's first cyber security champion.
Dan Summers won a government-backed competition to find amateur experts in the field.
The scheme was designed to promote awareness of jobs in IT security, in the face of falling recruitment figures.
Candidates had to prove their technical skills by dealing with simulated security breaches in a made-up company.
Mr Summers, who had worked in IT before joining the Post Office, walked away with a combination of prizes worth £6,000.
Stuart Rennie, a 17-year-old student from Cambridgeshire, took second place.
"This was the most intense and rewarding experience of my life," said Mr Summers, after being crowned champion. "I'm just so glad I did this."
He said he would now seriously consider swapping his job as a postman for a career in cyber security.
The final challenge involved entrants working in teams to combat a series of increasingly sophisticated cyber attacks.
As well as testing knowledge of computer security, it also demanded that teams show their personal and business acumen in a series of face-to-face trials.
The competition began in July 2010, when members of the public who rated their cyber security skills were invited to try their hand at a series of online challenges.
The top performers in these challenges were asked to take part in offline competitions, culminating in a grand final during which they were faced with a series of trials.
The competition was set up, with the help of the government, by computer security firms worried about the increasing difficulty of recruiting skilled staff to help combat the rising tide of cyber crime.
The number of young UK residents entering IT careers has fallen by 50% over the past five years, according to the government body e-Skills.
"The only way to end the radical shortage in advanced security skills, is to ensure people with those skills are recognised and compensated appropriately," said Alan Paller, director of research at the SANS Institute which advises governments and companies on computer security.